How to have thousands of pictures digitized with free photo scanning.
As everyone prepares for summertime reunions, we cooked up this super deal with free* photo scanning to celebrate family gatherings again. Rediscover your decades of nostalgic photo memories, have ScanMyPhotos professionally digitize all (this fast), and score FREE* PHOTO SCANNING.
There is no charge for standard fill-the-box photo scanning–Save $170 and more. Includes delivery of your box to you and back to us. Just pay for return delivery, digital media, upgrades, and extra services to enhance your photo digitization order.
---
---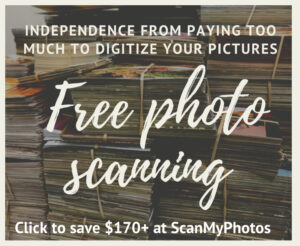 After a year when 40% of all our scanning orders were from grieving families readying for online Zoom memorials, now things changed.
Seventy percent of all new orders are from families preparing to share their nostalgic photo memories during summertime reunions.
---
---
---
The TV news story on how ScanMyPhotos constantly innovates.
We designed FREE PHOTO SCANNING with you in mind and to help get you ready for your family reunions. Your legacy of nostalgic photographs is the centerpiece for displaying your history during gatherings and preserving your legacy of memories.
As we get back to post-pandemic normalcy, family reunions are returning. The Summer of 2021 promises to be the largest family reunion gathering ever. The challenge is how to share your archives of past family adventures, celebrations, and history from your photo albums?
Love Free Stuff? This is the perfect time to have your pictures digitally preserved, and scanning is free.
Think this is fast, as your pictures are professionally digitized? Even better is thousands of snapshots are digitized free*, and with free delivery. Just pay for upgrades and extra services to enhance your photo digitization order.
INSTANT ORDERING (Enter "FreeScanning" promo code at checkout).
HOW TO GET FREE PHOTO SCANNING:
Use this link to order free photo scanning.
At checkout, use this promo code: "FreeScanning" to instantly save $170.
The standard social media scanning includes free social media resolution scanning of about 1,800 pictures with two-way free delivery of up to five boxes to fill with snapshots.
To enhance your order, choose from our entire menu of add-on services.
You must enter "FreeScanning" promo code at checkout to activate.
If you only need standard 72dpi "social media" level photo scanning, your scanning cost is ZERO* when you enter the "FreeScanning" promo code at checkout.
HOW TO PREPARE YOUR PHOTOS FOR SCANNING:
We sure hope with this BIG DISCOUNT you'll also select from the basket of popular add-on services, and share this deal with everyone. For higher photo scanning resolutions (including professional 600 dpi) and other add-ons, just enter the promo code–you'll instantly save $170 — applied toward your purchase.
The full menu of photo scanning services, including professional 600dpi scanning, is listed below.
Same-day scanning, instant uploading, custom 8GB flash drives, and so much more are available on the order page.
*FINE PRINT: Free scanning expires on July 30, 2021. Limit five boxes per address. Applicable sales tax applies. It cannot be applied to prior orders, FGC, or any other discounts. Good only for prepaid fill-the-box photo scanning. No returns or cancellations. ORDER BY 5 PM (EDT) ON WEEKDAYS AND YOUR BOX(ES) IS MAILED THE SAME DAY.
Select From Our Menu Of Add-On Services. We recommend you also select from these featured services to enhance your archival experience.
UPGRADING to our very popular, industry-leading 600 DPI scanning offers an even more precise and finer-detailed scan;
Save your photos to custom 8GB thumb drives for just $15.95;
Extra DUPLICATE DVD data discs at a huge discount (order 8 or more and pay just $9.95 each);
Have us ROTATE all your pictures upright;
Order beautiful hard-cover bound PHOTO INDEX BOOKS with color thumbnails of all your photos;
MOST POPULAR: Order PHOTO SOAP to digitally upgrade and make your pictures sparkle and look like new;
HIGHLY RECOMMEND: Have your pictures scanned in order; otherwise, it is randomly archived. Scan in Order;
RUSH Express Same-Day Scanning;
Have your own concierge expert seamlessly oversee your order, from start to finish. Elite-Concierge.
BONUS: SIGN UP HERE FOR INSTANT DISCOUNTS AND NEWS UPDATES FROM SCANMYPHOTOS.COM
---
Martha Stewart Recommends ScanMyPhotos For Digitizing Pictures
Read more about ScanMyPhotos from all these media profiles and reviews