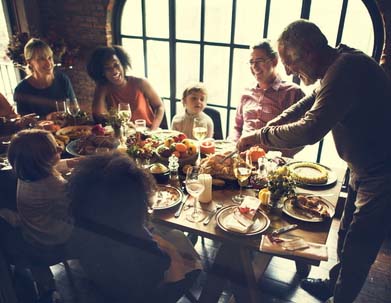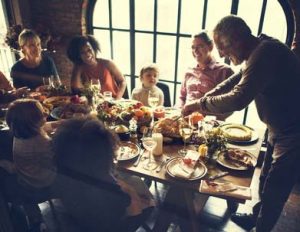 Context is a vital part of any photo-scanning project—especially when inheriting a box of vintage photos from a family member. Who are the people in the pictures? Where were they taken? Who took the pictures and why? Unless detailed notes were included on the images themselves, the answers to these questions are often lost to the passage of time.
Thankfully, this no longer needs to be the case. We now have the ability to record, add notes and photos, and archive the oral history of our families and our Nation—all we need to do is sit down and ask the right questions.
This is why every Thanksgiving, we encourage our customers to participate in StoryCorps' Great Thanksgiving Listen. The challenge is simple: Using the StoryCorps app, set some time aside this Thanksgiving to interview an older family member about their life and memories. You'll be surprised at what you find out. In fact, our customers often discover incredible stories about their family's history simply by sending us their photos. Check out a few of our favorites.
EXCERPTS:
"Interviews become part of the StoryCorps Archive at the American Folklife Center at the Library of Congress. Since 2015, The Great Thanksgiving Listen has grown from an experimental challenge issued by our founder, Dave Isay, into a vital intergenerational movement. To date, thousands of high schools from all 50 states have participated and preserved more than 100,000 interviews, providing families with a priceless piece of personal history"



100 Years of Photos Reveal an Incredible Family History and Journey
"My great-grandparents grew up in Wisconsin. When my great grandpa Lew joined the navy, he traveled to San Diego and decided he wanted to move there. At the time he and my great grandmother were only dating so he proposed and asked her to move out to San Diego with him. She said yes, and in 1937 they drove out to the West Coast on the back of his Harley Davidson motorcycle. The deal was she could go back to the farm in Wisconsin every other year to visit family. Now our whole family (aside from some cousins) are all in San Diego."
The Refugees and the Vintage Photos of Happier Times in Hungary
"My dad, uncle, and grandmother escaped Hungary during the student uprising against communism in 1956. My uncle was attending university at the time and his friends began disappearing. One day he came home and told the family they needed to leave. They fled to Yugoslavia and, from there, eventually made their way to the U.S. It was heartbreaking for them to leave as they knew what the consequences would be—they would never see my great grandmother or other family members again. One of the few things my grandmother took with her was this box of photos."
Discovering the Special Magic of Photos You've Never Seen Before
"There was one photo of my dad with two other soldiers. I'm not sure where he was in the picture, but I know he was in Army Air Corp during WWII in the 29th Mobile Reclamation and Repair Squadron, 99th Service Group. I believe the picture I found of him and his buddies was taken during his basic training in Mississippi. I don't think it was in Germany, but they were wearing their uniforms and it looks like there are barracks in the background. I had never seen this picture before and didn't realize I had it until I was going through all the photos!"
Imagine if the stories above had a special recording where the subjects gave us all the details and context. We could learn so much about our history and our Nation simply by listening in.
If you want to capture history for future generations to understand, then follow @StoryCorps' hashtag the #GreatThanksgivingListen on Twitter and share the interviews with the world—before it's too late.