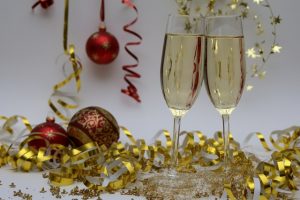 It's almost here—2018 snuck up on us and it's now poised and ready to pounce! While we're only a few short days away from the New Year, we thought it would be a good time to reflect on the types of changes we'd like to bring with us into 2018.
Of course, most New Year's resolutions usually don't come to fruition, but this might be because, most of the time, we make resolutions that are more like chores than something we would actually enjoy keeping.
So, in order to start the New Year off on the right foot, we pulled together this list of New Year's resolutions that we'll actually want to keep in 2018.
1. Say "thank you" more often
This is an easy one to incorporate into everyday life. All you have to do is be conscious of the little moments throughout the day that you might be able to say thank you for—like if a stranger holds open a door or a cashier tells you to have a nice day.
2. Pay it forward
This resolution can turn into a feel-good game that you'll look forward to sticking to. Depending on what you can afford to give away—time, money, items, etc.—make an effort to pay something forward to another person. It could be as simple as buying the person behind you a cup of coffee or giving spare change away to the needy.
3. Look back on happy memories
Set some time aside in 2018 to look back on the good times—the moments that lead you to where and who you are today. You can do this by sorting through old print photos with friends or loved ones. Bonus points if you take the time to organize those old photos and send them to be digitized before 2019 rolls around.
4.Take some (calculated) risks
Again, this doesn't have to be anything extreme—like taking up bungee jumping as a hobby. It could be a conscious effort to do things that might be outside your comfort zone—like actually applying for that dream job or striking up a friendly conversation with a complete stranger.
5. Indulge in self-care
This resolution is one that you'll actually look forward to keeping. Try to take some time each day, week, or month to spoil yourself a little bit. It doesn't have to break the bank either—it could be a five-minute meditation session or a nice hot bubble bath.
Do you have a New Year's resolution you're looking forward to keeping in 2018? If so, let @ScanMyPhotos know on Twitter!
---
Trending ScanMyPhotos articles
5 New Thanksgiving Traditions You'll Want to Try This Turkey Day
'Tis the Season to Embrace the Warm and Cozy Concept of Hygge, Here's What You Need to Know
Give Your Loved Ones the Gift of Less Stuff this Holiday Season
Swedish Death Cleaning is the Latest Trend to Sweep the Decluttering Space
5 Photo Challenges You'll Want to Participate in on Social Media
What to Remember a Moment Forever? Science Says Do This
8 Holidays and Special Occasions Where Photos Make the Perfect Gift
Why We All Need to Observe Fire Prevention Week
7 Pro Tips on How to Take Sunset Pictures
The Surprise Anniversary Gift that Garnered Happy Tears
While DNA Tests Offer a Peek into Family History, Your Genealogy Efforts are Missing This
#DoSomethingGrand, Scan Your GrandParent's Photos For #GrandparentsDay