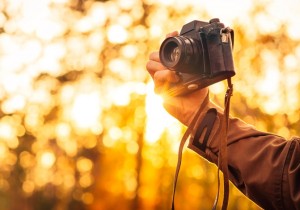 Best Fall Photography Tips Revealed
Happy autumn! As the beginning of fall marks the autumnal equinox, and with it brings some of our favorite things like cool nights, clear days, gorgeous foliage, and pumpkin-flavored everything!
This is also our favorite time of year for photography. You can't beat autumn backdrops for photos, whether you're taking pics of the family for holiday cards or trying to capture nature's beautiful color displays.
As you set off with your camera in hand, here are a few tips on to get the best fall photos.
Pick an excellent location
Since the weather in the fall is usually mild and clear, it's the perfect time to strike out and find the best backdrop for your pictures. As you search for a good location, keep in mind that timing is of the essence. The leaves can change colors or fall off the trees in just a few days—always keep your camera handy!
Overcast day? No problem!
Many photographers assume that the lighting is best during the middle of the day—but that's often not the case! In fact, too much sunlight can wash out the bright colors in your photo. One of the best days to shoot foliage is when there are some clouds in the sky—the color of the leaves will really pop against the backdrop of the gloomy sky.
Don't count out rainy or foggy days either
The rain and fog give photos another-worldly quality. The mysterious and soft qualities of rainy day photos are great storytelling elements to add to your photography.
Rise and set with the sun
Another time for perfect fall lighting is around sunrise and sunset. This is usually referred to as magic hour by photographers and videographers—you'll love capturing the way the sunlight hits the trees in the early morning or at dusk.
Get in on the action shots
Falling leaves can add a layer of complexity to your photo shoot. To really capture the motion, set up a tripod, increase your shutter speed, and use burst to take multiple shots at once.
Want more fall photography tips? Check out our article, How to Capture Action Shots During Fall Sports and Activities.
More tips to digitize pictures
Excerpt: Most of us have gone completely digital with our pictures, storing them now on our computer or in the cloud. So, what do you do with all those old printed photos piled in boxes or living in analog photo albums? KRON4's Tech Reporter Gabe Slate shows you online services that let you quickly get those old pics turned digital in an easy and affordable way.