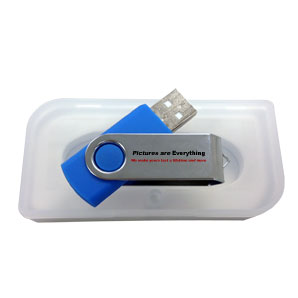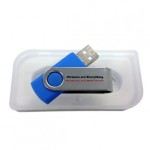 ScanMyPhotos recently announced that customers can now add a thumb drive to their photo, slide or negative scanning order but most people don't know why they should add this valuable option. There are number of reasons to consider ordering the ScanMyPhotos USB flash drives in addition to the traditional DVD disc we provide with every order. While most DVD discs produced today have an 80 year plus rating, the lifecycle of the optical drive is beginning to wind down. Most computers currently in homes have optical drives, but new computers such as the MacBook and MacBook Pro have phased out the optical drive and now ship without it to increase portability and decrease the weight of Apple's "travel" computers.
Additionally, people view images on a multitude of devices, such as tablets, digital picture frames and gaming consoles. These typically do not have optical drives or are not compatible with a copied disc. So how do you view those digitized photos on these other devices?


That is where the ScanMyPhotos USB flash drive, also known as a thumb drive, enters. In instances where optical drives are not found, a USB port typically is. USB drives, as the name suggests, connect to the USB port of a computer and are plug-and-play, meaning, the moment you insert the drive into the USB port, the computer recognizes it, loads its driver from its database and assigns it a separate drive letter.
What are the main advantages of using a USB flash drive versus a traditional CD/DVD?
Thumb drives are exceptionally small and a number of these can fit easily in a pocket. They are also extremely light in weight and are highly portable. Try doing that with a DVD.
Due of the absence of any delicate or moving parts, a USB drive is nearly immune to impact trauma. If it is dropped to the ground, you aren't going to cause it to scratch and become unreadable like you would with a DVD.
The USB drives come encased within a tough plastic shell that protects them from dust and other kinds of damage such as scratches, unlike optical disks whose data-recording surface remains exposed to the elements.
A thumb drive can be reused over and over. Unlike the DVD which has data permanently embedded into it, you can delete the files on this or any other flash drive to be used for any number of other uses. Check out this CNET video showing 5 things you can do with your flash drive besides store data.


Five cool uses for a USB flash drive
Want to spend less time waiting for data to copy? Most current flash drives are rated to transfer data at 60 MB per second but realistically transfer data at about 30 MB per second. Most computers now ship with 8x or 16x DVD drives which transfer data at about 10-21 MB per second. If you have 4GB worth of photos to copy to your computer, would you rather be done in just over 2 minutes or almost 7 minutes?
Do you have a digital picture frame? Most, if not all, have a USB port which means you can plug your new thumb drive loaded with all of your scanned photos directly into the frame and start watching your photos instantly.
USB drives are not dependent on a particular platform. They are platform-independent and can be used with any operating system. Believe it or not, there are some optical drives that just don't like burned discs. We encounter this about once a month and have yet to find a pattern or reason for this.
Order your ScanMyPhotos thumb drive today with your photo scanning order. It has never been easier to transport your photos from computer to computer or other device.