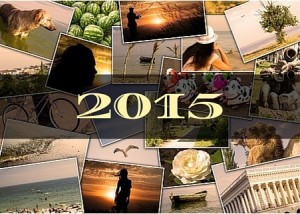 As we count down the last few days of 2015 and ring in the New Year, there is a lot to look back on. So many moments—some special and wonderful, others shocking and sad—happened all over the world (and beyond) this year. Through photos we were able to capture only a fraction of these moments to either re-live the good times or keep them as a reminder of what needs to change in 2016.
Here are some of the articles that we feel capture the best photos of 2015. As we review these amazing photos, the one thing we can all agree on is that we're looking forward to all the wonderful new moments 2016 has in store.
The Coolest Images From National Geographic's 2015 Photo Contest – @Gizmodo
Every year National Geographic opens their photography contest to photographers around the world. The photos that win are the cream of the crop selected from the thousands of submissions that were entered. You won't want to miss these incredible photos.
World Press Photo 2015 Photo Contest – @WorldPressPhoto
The World Press Photo Contest also saw some amazing entries from photographers around the globe. The eclectic mix of winning pictures is impressive to scroll through and see things through the eyes of our brothers and sisters in other countries.
A Year In Space Photos 2015: Pluto First Look, Water On Mars, EPIC View Of Earth And More – @IBTimes
Moving well beyond our stratosphere, many of the best photos of 2015 were out of this world—literally. From the heart-shaped landscape on Pluto to an anniversary shot of the star cluster Westerlund 2, these photos will take your breath away.
The 12 Best Celebrity Instagram Posts of 2015 – @vfhollywood
What year-in-photos re-cap would be complete without including celebrity pictures? These days we don't even need the paparazzi to show us some amazing photos of our favorite celebs—they're constantly sharing fun photos of themselves right on Instagram!
The Year in Pictures 2015 – @nytimes
The New York Times captures the full spectrum of everything that happened this year in an amazing photo section. A few of the images may be disturbing for some, so scroll through the gallery with caution.
Bonus!
Five fake photos that went viral in 2015 – @guardian
Not every photo we see floating around the internet is legit—including these five fake photos that went viral this year.
Every photo is a piece of the puzzle that adds up to our history. While 2015 is fresh in our minds, many of the photos we have from years before contain memories that are fading fast. Keep the past alive by preserving history—scan your old photos today.