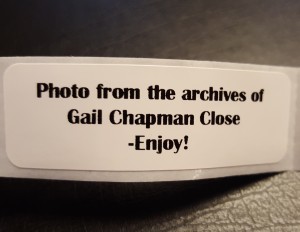 If you happen to receive an envelope with an address label that says "Photo from the archives of Gail Chapman Close—enjoy!" then you, my friend, are in for a treat.
ScanMyPhotos customer Gail has created quite the project for herself over the last few years, and her friends and loved ones are reaping the benefits.
"It's always been an issue about what to do with the photos in the basement so my husband bought me a ScanMyPhotos prepaid photo scanning box a couple years ago for Christmas. At the time I wasn't comfortable putting all the pictures in it and sending them to California, but that has definitely changed!"
Gail has just sent us her tenth box of photos to be scanned. She's been hard at work archiving and indexing the printed photos taken of her family and kids.
"It was excruciating to send that first box out, it was a leap of faith, but then ScanMyPhotos emails you when get the box, they email you when they scan it, and they email you when they send it back. They're in constant communication."
Gail started by sending photos that she had negatives of so if anything were to happen, she could reproduce the negatives. When everything she sent to ScanMyPhotos came back just the way she sent it, she started sending in more and more.
"I've always asked: What are you going to do with all those photos if the house is on fire—grab all those boxes and albums and run out the door?"
After scanning in her photos, Gail now has nine index books on the table by her front door, and all her photos have been downloaded from her ScanMyPhotos discs onto her laptop. The discs are also sitting safe inside a fireproof box. It might be safe to say that Gail has all her bases covered in terms of preserving her memories.
Gail also uses her index books to send photo deliveries to friends and loved ones. "In the index book, I'll look for certain pictures taken at certain times. I'll then mail the print photo to the person in the picture for a special occasion. I even had my own address labels made up!"
When she's not mailing out original photos, Gail sends pictures via email.
"My daughter gets a kick out of the awkward pictures of her as a teenager. She did a split image of a photo of her then versus one now. It was very cute."
Gail continues to work through her "basement project" and has a lot of genealogy stuff to start down the road. In the meantime, Christmas may come a bit earlier for those who happen to receive an envelope with her custom address labels on them.