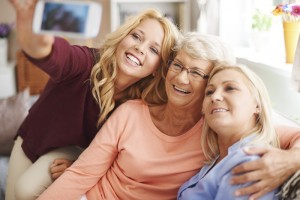 While the term selfie has exploded in recent years, the notion behind the digital photo phenomena has at least been around since this 1839 photo Robert Cornelius took of himself. Taking selfies is not just for young, hip teenagers—it's a practice that's over 150 years old!
So, if you're ready to jump on the selfie train, then you're in luck. We have a few tips for those who are seasoned selfie pros or for those who are just beginning.
Hold it up and away
Never, ever make the mistake of taking a selfie at a lower angle, pointed up towards your chin. Often this view is very unflattering of the neck and makes for an awkward-looking photo. Instead hold the phone at the same level as your forehead and tilt it slightly down towards you and your friends. This angle will make your eyes look larger and gives everyone a more slender appearance.
Set that timer
It's difficult to crane your arm out and then finagle your finger to hit the shutter button—this is a sure-fire way to get a blurry photo. These days many smartphones have their selfie mode already set up with a timer, but if yours does not, you may need to set it up manually. The 2-3 second mark is a good timeframe for a selfie.
Get creative
There are many ways to take a seflie and add your own unique spin on it. Just take it from this family who took a series of amazing selfies with their newborn.
You can take an interesting shot in a mirror, reflective surface on your watch, through a magnifying glass—the sky is the limit. Get creative and push the boundaries to come up with some really unique shots.
Snag the right kind of lighting
If you find yourself on social media a lot, then chances are you see a lot of selfies where the subject is in the front seat of the car. There's a reason why this scene is so popular—the lighting in the car is very flattering. You get the bright natural light of the sun that masks blemishes and brightens the eyes, without the harsh shadows and sharp contrast that direct sunlight causes.
The good news is: You don't need to be in the car to capture this kind of light. Sitting outside under a light colored umbrella or the shade of tree can produce a similar effect.
Squeeze everybody in
Some of the best selfies are those were you try to fit as many people into the frame as possible. Take the photo Ellen DeGeneres took at last years Oscars—she managed to fit almost 12 famous celebrities into one photo and nearly broke the internet in the process. Now that's a great timeless photo!
Have fun
The best thing about selfies is that you can't take them too seriously. They're about having fun in the moment and capturing your best self. Always enjoy the process!