What's the difference between 300dpi and 600 dpi? What size photos do you accept? Can you handle rush orders?
If you have a photo scanning question, our ScanMyPhotos Concierge can answer it.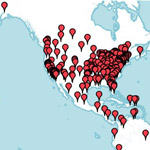 Every day – and every night – your burning questions about photography, digital imaging, online photo ordering and photo scanning make their way across the globe to our inbox.
We do our best to answer your questions as quickly as possible – and make it fun in the process. When you email us, let us know where you are so we can reply with a "Good morning!" or "Good afternoon!" – or, for our friends Down Under, a hearty "G'day!" You see, our Concierge is not operated abroad, but rather right here at our Orange County, California headquarters – and we do love to hear from you and find out where you are. It never ceases to amaze our team that we reach so many people in every corner of the globe.
If you'd like more immediate feedback, try out our chat. You can do so right here.
Below is a typical chat exchange between a customer (this one was in Brooklyn, NY) and our Concierge in Irvine, California:
Jeremy B: Is there a way to check on an order? I estimated it would arrive to you yesterday. I looked for an order status part of the site and couldn't find. Thanks, Jeremy
Welcome Jeremy B! Your request has been directed to the Customer Service department. Please wait for our operator to answer your call.
Concierge: Hello Jeremy. Give me one moment. We received and shipped back 2 of the 3 boxes yesterday the 23rd. In one box you had 1750 photos and the other 1968 photos. Is there anything else I can help you with?
Jeremy B: No. Thank you very much!
Concierge: It's my pleasure. Have a great evening!
Easy peasy! Have a photo scanning question? Send it along and experience the ScanMyPhotos Concierge VIP treatment for yourself!