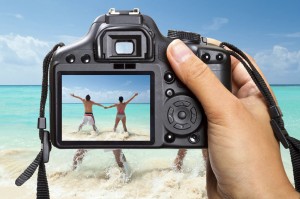 You gotta love technology! Though it changes all the time and is therefore impossible to keep up with, those changes are meant to make our lives easier, whether we're talking about cars, smartphones, refrigerators, or cameras. If it's been a while since you purchased a camera, we've got you covered.
Here is our camera shopping guide, aka, what to look for when buying a new camera:
Decide what camera qualities are important to you first
Cameras vary by photo quality, performance, features, and design, and it is rare that one camera does all four perfectly. Before you even set foot in a store (or surf online), decide if photo quality is more important than a zillion features, or if the design will have a major impact on how you use it. Once you know what you want, camera shopping just got easier.
Don't buy based on resolution
Don't consider resolution (how many pixels the camera uses to produce an image) when camera shopping, because every new camera has more than enough resolution for you, no matter what your needs are.
Read reviews and try out the camera
Depending on where you are buying a camera, your salesperson may know little to nothing about cameras – or she might have the knowledge of an encyclopedia. Don't take any chances. Read reviews first and then try out the cameras you are considering to get a feel for which one is right for you.
Think about how much zoom you really need
A basic point-and-click camera is perfectly fine, but if you want the ability to really zoom in on people, places, or things, you'll want to step up to a compact megazoom or a megazoom camera. The difference between the two is really in how much you can zoom. With a compact, you can zoom in up to 10x; with a regular megazoom, it's up to 20x.
Consider going professional with a dSLR
If you want to take more stylized, artsy shots or are considering selling your photos, you need a dSLR (digital single-lens reflex) camera. In general, you'll be operating in manual mode, but some let you switch to automatic mode for certain functions. You'll also be able to swap out lenses and shoot multiple photos very quickly.
Before you start snapping and sharing even more photos, get your current stock of printed photos scanned, so you can share those too!