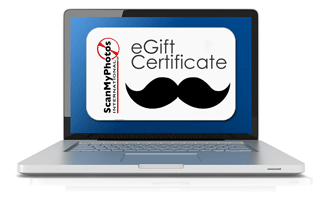 Few gifts are more cherished, emotional and remembered than a ScanMyPhotos.com E-Gift Certificate. Available online, these are the most popular way to get all your gift shopping done with a few clicks.
It's personalized and includes a custom message from you that instantly is delivered to all your recipients' emails. Don't forget, special occasions are just around the corner and ScanMyPhotos eGift certificates are a great present for the photobug dad in your family. If your family is anything like mine, your dad always had the family camera snapping pictures to capture every moment of every family birthday, every vacation and every milestone.
What better gift then giving the peace of mind of knowing all those photos will be preserved forever in a digital format. This year, forget the tie and get the dad in your family the gift of photo preservation. There's no easier way to spread happiness and give a gift that lasts a lifetime and more
.