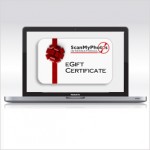 We recently ran a contest to encourage customers to give the gift of photo preservation to their family and friends by purchasing a ScanMyPhotos gift certificate for them. In return for their good deed, they themselves would be entered to win their own $250 eGift certificate. The response was amazing and, in the spirit of the season, we have decided that the are three winners instead of just one!

Let's all congratulate:

Lee S. from Dothan, AL
Stephen V. from Sudbury, MA
Nancy W. from Center Harbor, NH
Check your email for your special gift! We thank all everyone that entered and we hope you all have a wonderful holiday season and a safe New Year!