Amid life's challenges, preserving precious memories becomes even more significant. At ScanMyPhotos.com, we understand the importance of capturing and sharing photo memories, especially when budgets are tight. In this article, we'll explore how our affordable photo scanning services can help you cherish and share your family's history without breaking the bank. And why we can even provide our services for free?
Memories on a Shoestring Budget. Digitally Preserving Photo Memories on a Budget.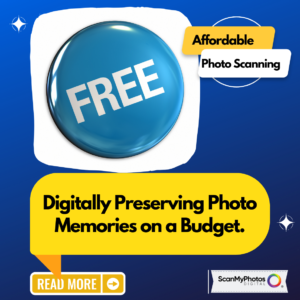 When faced with financial constraints, many families hesitate to invest in photo scanning for memorial services or to share with loved ones during difficult times. At ScanMyPhotos, we recognize the financial strain families may experience during these moments. That's why we're here to offer a helping hand, ensuring that your memories can be preserved and shared, regardless of your budget.
Affordable Solutions for Every Family:
Our commitment to accessibility sets us apart. We provide budget-friendly photo scanning services tailored to your needs. Whether you're commemorating a loved one or creating a visual history to share with family in hospice care, we offer solutions that won't burden your finances.
Active Support:
If your budget is tight, don't hesitate to contact us. Please shoot us a direct message (DM) on Twitter (X), and our team will work with you to find the best solution for your financial situation. Your memories deserve to be preserved, and we're here to help make that happen—additional contact info to have us review your needs and situation.
Ensuring your memories are captured on a budget is essential. ScanMyPhotos is committed to providing affordable photo scanning services, making it easy for families to celebrate their history without financial strain. From memorial services to sharing moments with loved ones in hospice care, our accessible solutions cater to diverse needs.
ScanMyPhotos is your ally in preserving memories affordably. Visit our blog for more tips on family history preservation and explore our other services to enhance your experience. Your memories deserve the best, and we're here to make it happen.  At ScanMyPhotos, we believe in the power of memories. That's why we offer free photo scanning for families facing financial challenges. Preserving and sharing memories during difficult times shouldn't be hindered by financial constraints; it's our way of supporting and cherishing those meaningful moments.