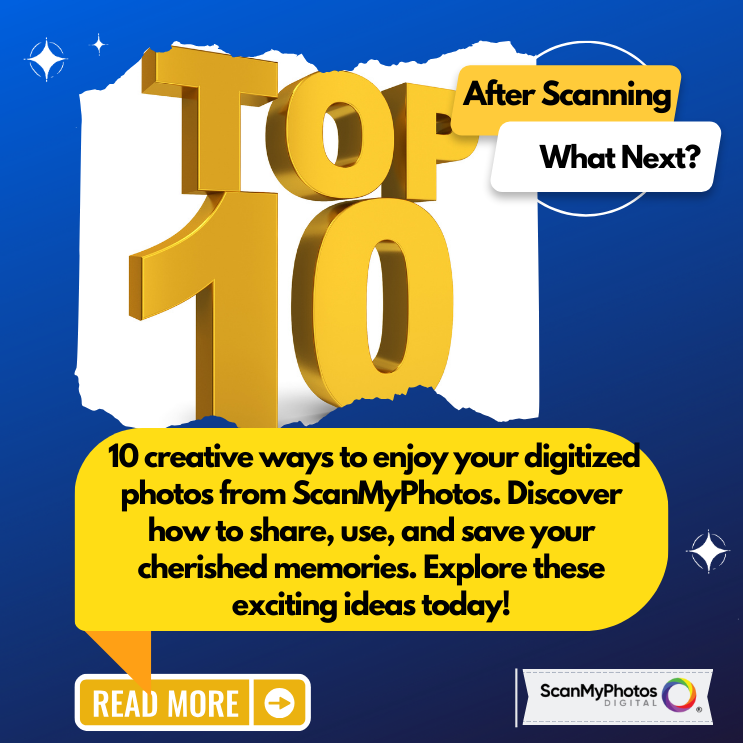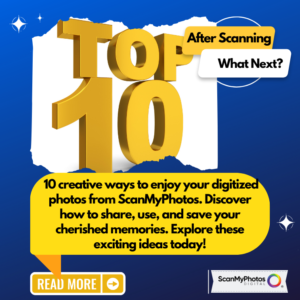 Welcome to ScanMyPhotos, where we help you transform your cherished photo prints into digital memories! Once you've entrusted us with your precious photos and received your digitized copies, you might wonder, "What can I do with them now?" Well, we've got you covered! In today's PICTURE THIS! we show you ten fantastic ways to share, use, and save your newly digitized pictures from ScanMyPhotos.
Here are ten ways to share, use, and save your newly digitized pictures from ScanMyPhotos.com:
Organize them in digital folders by date or event.
Share them on social media platforms like Facebook and Instagram.
Email them to friends and family.
Create a digital slideshow for special occasions.
Please include them in digital photo albums or scrapbooks.
Print your favorites for framing or gifting.
Back up your digital copies on cloud storage like Google Drive or Dropbox.
Use them for personalized gifts like photo calendars or mugs.
Display them on digital photo frames around your home.
Ensure long-term preservation by saving them in the cloud.
---
Top 10 Ways to Enjoy Your Digitized Photos from ScanMyPhotos
Discover the best ways to maximize your digitized memories from ScanMyPhotos. Explore ten creative ways to share, use, and cherish your newly digitized pictures. First, study and research for a photo scanning company that scores media raves like these.
1. Create a Digital Photo Album
Transform your digitized photos into a stunning digital photo album. Organize them by events, dates, or themes, and relive those special moments with a few clicks.
2. Share on Social Media
Spread the joy by sharing your digitized photos on your favorite social media platforms. Connect with friends and family and let them reminisce with you.
3. Design Personalized Gifts
Turn your digitized photos into unique gifts. Create custom mugs, calendars, or canvas prints to surprise your loved ones.
4. Preserve Family History
Share the stories behind your photos with future generations. Create a digital family history book to pass down your legacy.
5. Make a Slideshow
Craft captivating slideshows with your digitized photos. Add music and narration for an extra touch of nostalgia.
6. Print Copies
Sometimes, you need physical copies. Print your digitized photos and decorate your home with cherished memories.
7. Organize a Photo Scavenger Hunt
Have some fun with your digitized photos! Organize a scavenger hunt for friends and family using your favorite memories as clues.
8. Create Digital Scrapbooks
Unleash your creativity by making digital scrapbooks. Add captions, stickers, and decorative elements to relive your moments.
9. Use Them in Home Decor
Design unique home decor by framing your digitized photos. Showcase your memories with style.
10. Share with Distant Relatives
Reconnect with relatives you haven't seen in a while. Share your digitized photos to bridge the gap and strengthen family ties.
Conclusion
Your photo memories are in good hands with a photo archival service like ScanMyPhotos. And now that you have these ten exciting ideas for sharing, using, and saving your newly digitized pictures, you can make the most of your digitized treasures. Start reliving and sharing those precious moments today!
<< Get Started. Digitize My Pictures Now >>
---