Twenty-Five Ways To Hack And Get FREE Swag at SXSW®:
Attend sponsored events and booths, as many companies give away free merchandise.
Follow SXSW social media accounts and companies participating in the event, as they may announce giveaways.
Participate in interactive experiences or games at booths to earn free swag.
Attend panels or sessions that offer freebies.
Sign up for company mailing lists or follow their social media accounts for future promotions.
Attend networking events to meet people who may have extra swag to share.
Bring a reusable bag or backpack to carry swag.
Look for street teams giving out free samples or coupons.
9. Check the SXSW schedule for free events and screenings.
10. Attend the SXSW Outdoor Stage for free concerts and giveaways.
11. Visit the Austin Convention Center, where many companies and sponsors have booths with free merchandise.
12. Volunteer at SXSW to receive a volunteer t-shirt and other perks.
13. Participate in surveys or provide feedback to receive free merchandise.
14. Attend book signings or author talks to receive free copies or merchandise.
15. Participate in scavenger hunts or other interactive experiences to earn free swag.
16. Attend after-parties and events for the chance to receive free swag.
17. Visit the SXSW Marketplace for free samples and promotions.
18. Attend the SXSW Gaming Expo for the chance to win free games and swag.
19. Participate in charity events or fundraisers to receive free merchandise.
20. Check out the free samples and promotions at food trucks and vendors.
21. Attend the SXSW Trade Show for the chance to win free products and swag.
22. Visit the SXSW Wellness Expo for free samples and promotions.
23. Check out the free samples and promotions at the Austin Visitor Center.
24. Attend film screenings for the chance to receive free posters and merchandise.
25. Look for giveaways and contests on social media using hashtags related to SXSW.
BONUS: write a blog about SXSW and add your videos and news clips to showcase what it is you do and why you are closely connected with the SXSW experience.
---
---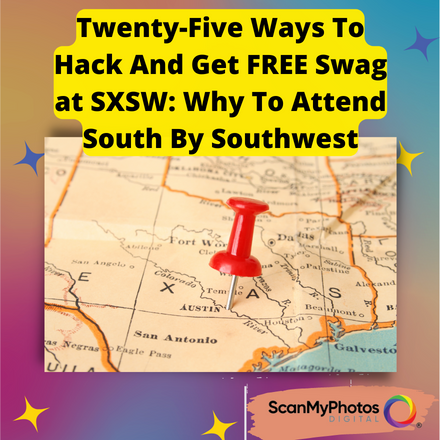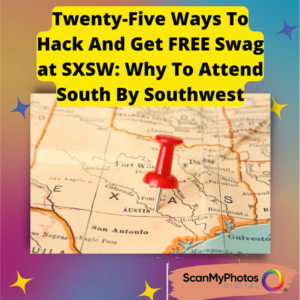 Twenty-Five Reasons To Attend SXSW:
Networking: SXSW is an excellent opportunity to connect with people from various industries and build your professional network.
Access to top-tier speakers: SXSW brings together some of the most innovative and influential people in technology, entertainment, and business, giving attendees access to cutting-edge insights and trends.
Exposure to new ideas: With hundreds of sessions, workshops, and events, SXSW provides a platform for exploring new concepts and emerging trends.
Showcase your work: SXSW offers many opportunities for creatives, artists, and entrepreneurs to showcase their work and gain exposure. ScanMyPhotos.com is all about storytelling and digitizing attendees' past home movies, pictures, and 35mm slides for uploading their past adventures and nostalgia to all the popular social media platforms.
Discover new talent: The festival is a melting pot of creativity and attracts some of the most talented individuals from around the world.
Access to startup funding: SXSW provides an opportunity for startups to pitch their ideas to investors and secure funding.
Experience new technologies: The festival showcases the latest technologies, from augmented reality to artificial intelligence, giving attendees a chance to experience them first-hand.
8. Learn from industry experts: Attendees can learn from experts across various industries, from technology to healthcare.
9. Participate in interactive workshops: SXSW provides opportunities for hands-on learning through interactive workshops.
10. Attend film screenings: The festival features a wide variety of films, including premieres and documentaries, providing attendees with a chance to enjoy cinematic works from around the world.
11. Explore the city of Austin: Austin is a vibrant and exciting city with excellent food, music, and cultural events, making it a perfect location for a festival like SXSW.
12. Attend live music events: SXSW is famous for its live music events, which feature both established and emerging artists.
13. Discover new trends in design: Attendees can explore new design trends through exhibits, installations, and interactive experiences.
14. Learn about the latest marketing strategies: SXSW provides insights into the latest marketing strategies and techniques that businesses are using to connect with their customers.
15. Connect with media professionals: SXSW attracts media professionals from all over the world, providing an opportunity to connect with reporters, journalists, and other media personalities.
16. Explore emerging markets: SXSW provides a platform for exploring emerging markets and learning about new industries.
17. Attend keynote speeches: Keynote speakers at SXSW include some of the most influential and inspiring individuals in their respective fields.
18. Gain inspiration: SXSW is an inspiring and creative environment that can provide attendees with the inspiration they need to pursue their passions.
19. Connect with like-minded individuals: SXSW brings together people from all over the world who share a passion for creativity, innovation, and technology, providing an opportunity to connect with like-minded individuals.
20. Attend educational panels: SXSW offers educational panels on a wide range of topics, including entrepreneurship, technology, and social issues.
21. Discover new products: SXSW provides an opportunity to discover new products and services that can help businesses stay ahead of the curve.
22. Build brand awareness: SXSW provides an opportunity for businesses to build brand awareness and showcase their products and services to a global audience.
23. Experience interactive exhibits: SXSW features interactive exhibits that provide a fun and engaging way to explore new ideas and technologies.
24. Discover new partnerships: SXSW provides an opportunity to connect with potential partners and collaborators from across various industries.
25. Attend parties and events: SXSW is known for its parties and events, providing a fun and social atmosphere for attendees to network and socialize.
---
ScanMyPhotos.com And SXSW Have Several Things In Common:
Both bring people together in one place, ScanMyPhotos.com preserves memories through photo scanning, and SXSW showcases the latest in technology, music, and film. Both are also at the forefront of their respective industries, with ScanMyPhotos.com always looking for ways to improve photo scanning technology and SXSW constantly pushing the boundaries of what's possible in music, film, and technology. Lastly, both ScanMyPhotos.com and SXSW value the power of community and bringing people together to share ideas and experiences.
---
Why ScanMyPhotos Raves on SXSW:
Once upon a time, there was a company called ScanMyPhotos.com. They were in the business of digitizing old photos, helping people preserve their precious memories for generations to come. But they were also a bit of an oddball company, always looking for ways to stand out from the crowd.
One day, the ScanMyPhotos.com execs got wind of a huge conference called South By Southwest (SXSW) in Austin, Texas. They heard that this event was all about technology, creativity, and innovation – three things that they were pretty passionate about themselves.
So they decided to pack up and fly to Austin. But why would a photo digitization company want to attend a tech conference, you ask? Well, let me tell you…
As soon as we arrived at SXSW, we realized that they had made a terrible mistake. Everywhere they looked, there were sleek new gadgets, cutting-edge software, and mind-blowing inventions. They felt like a bunch of grandmas at a rave – completely out of place.
But then, we had an idea. What if they pitched themselves as an "anti-tech" company? What if they showed everyone that there was still value in the old-fashioned ways of doing things, like printing out photos and putting them in albums? If they wrote a blog on SXSW?
Instead of setting up a booth at the conference, decorated with a retro theme that made it look like a 70s photo studio. Showing their storytelling videos to promote photo scanning to get decades-past photo content digitized for uploading to social media and to add to their movie-making content.
We hope upon learning about us, and how we preserved one billion pictures, people would start remembering their childhood photo albums and the memories that they held. Have them realize that maybe there was something to be said for preserving memories in a tangible way.
Could one company break through all the media clutter and attract attention from the media? Would they too be intrigued by the unique way all photo media is preserved–with same-day ScanFast scanning and instant uploading?
And so, ScanMyPhotos may just become the unlikely hit of SXSW. They may not have had the flashiest gadgets or the most cutting-edge software, but we hope to prove that sometimes the simplest ideas are the most powerful.
---
Why ScanMyPhotos.com attends SXSW (South by Southwest):
SXSW is an annual conference and festival held in Austin, Texas that celebrates the convergence of technology, music, and film. It features a wide range of events including keynotes, panels, workshops, concerts, film screenings, and exhibitions.
This year's SXSW will feature top attractions such as a keynote conversation with Stacey Abrams, a panel discussion on the future of cryptocurrency, a concert with rapper Megan Thee Stallion, and a virtual reality experience showcasing the latest in immersive technology. Other notable speakers include actress Issa Rae, entrepreneur Mark Cuban, and musician Dave Grohl. Additionally, the festival will have various sessions on topics such as sustainability, mental health, and social justice.
---
Five Similarities Between SXSW and ScanMyPhotos.com:
📷 Both ScanMyPhotos and SXSW capture unforgettable moments – one through photo digitization, the other through a music and film festival.
💾 Both help preserve memories for future generations – ScanMyPhotos digitizes old photos, while SXSW showcases emerging artists and filmmakers.
🚀 Both are on the cutting edge of technology – ScanMyPhotos uses advanced scanning equipment, and SXSW showcases the latest in tech innovation.
🎉 Both nts are cause for celebration – ScanMyPhotos helps people relive happy memories, and SXSW is a week-long party in Austin, Texas.
💼 Both events are about connecting with others – ScanMyPhotos helps people share their photos with loved ones, and SXSW is a networking event for creative professionals.
---
Ten Reasons Why You Should Be At SXSW:
Keynote speeches and panels featuring prominent leaders and innovators in technology, media, and entertainment.
Showcasing of emerging technologies, such as virtual and augmented reality, artificial intelligence, blockchain, and the internet of things.
Music performances by up-and-coming and established artists from a variety of genres.
Film screenings and discussions featuring filmmakers and actors.
Interactive exhibitions and installations showcasing new technologies and innovations.
Networking opportunities for professionals in various industries, including tech, media, and entertainment.
Start-up pitch competitions and workshops for entrepreneurs and investors.
Thought-provoking discussions on social and political issues, such as diversity, inclusion, and sustainability.
Parties and social events where attendees can connect and unwind.
New product launches and announcements by leading companies in the tech and entertainment industries.
---
What Exactly Is SXSW And What Is The Connection To ScanMyPhotos:
SXSW is an annual conglomerate of film, interactive media, and music festivals and conferences.
Innovation: Both ScanMyPhotos and SXSW are known for their innovative approaches to their respective industries. The photo scanning service has revolutionized the photo digitization process by using cutting-edge technology, and SXSW is known for showcasing emerging technologies and ideas in the entertainment and media industries.
Technology: Both ScanMyPhotos.com and SXSW are heavily involved in the use of technology. ScanMyPhotos uses advanced equipment to scan and digitize photos, while SXSW often features tech-related exhibitions and events.
Customer Focus: Both ScanMyPhotos and SXSW prioritize their customers' needs and satisfaction. ScanMyPhotos provides personalized services and a 100% Happiness Pledge Guarantee. SXSW offers attendees a diverse range of events and experiences.
Social Media Presence: Both ScanMyPhotos and SXSW have strong social media presence. ScanMYPhotos utilizes social media platforms (including Twitter) to showcase its services and connect with customers, while SXSW uses social media to promote events and engage with attendees.
Brand Recognition: Both ScanMyPhotos and SXSW have established themselves as recognizable brands within their respective industries.
Networking Opportunities: Both ScanMyPhotos and SXSW provide opportunities for networking. ScanMyPhotos works with individuals and businesses, while SXSW offers attendees a chance to network with industry professionals.
Creativity: Both ScanMyPhotos and SXSW are associated with creativity. ScanMyPhotos preserves treasured memories through digitizing photos, while SXSW celebrates creative expression through its events.
---