If you are attending Roots Tech®, ScanMyPhotos designed a special revenue-sharing program for you. Below the infographic are the full details.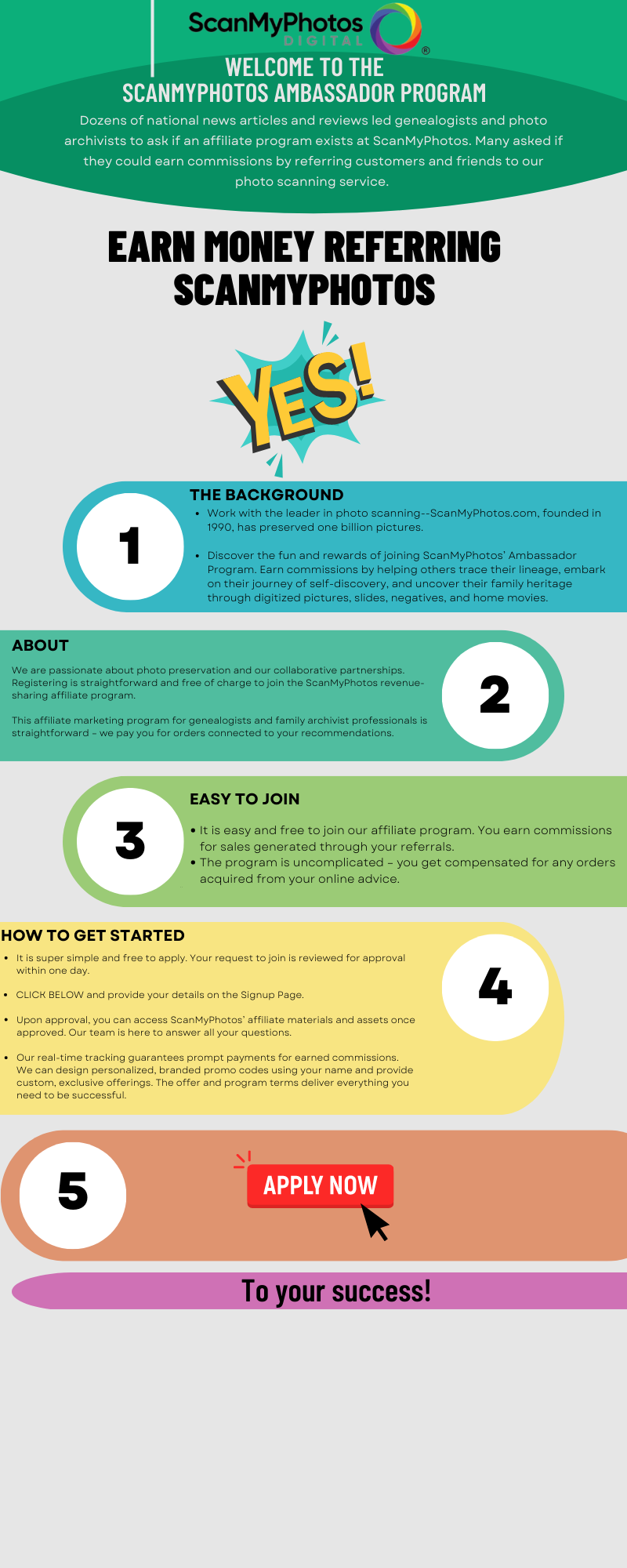 Welcome to the ScanMyPhotos Ambassador Program. Many asked if they could earn commissions by referring customers and friends to our photo scanning service. With hundreds of national news profiles and reviews, this Deseret News article best explains the ScanMyPhotos story.
Work with the leader in photo scanning–ScanMyPhotos.com, founded in 1990, has preserved one billion pictures.
Discover the fun and rewards of joining ScanMyPhotos' Ambassador Program and earn commissions by helping others trace their lineage, embark on their journey of self-discovery, and uncover their family heritage through digitized pictures, slides, negatives, and home movies.
We are passionate about photo preservation and our collaborative partnerships. Registering is straightforward and free of charge to join the ScanMyPhotos revenue-sharing affiliate program. This affiliate marketing program for genealogists and family archivist professionals is straightforward – we pay you for orders connected to your recommendations.
It is easy and free to join our affiliate program. You earn commissions for sales generated through your referrals.
The program is uncomplicated – you get compensated for any orders acquired from your online advice.
How to get started? It is super simple and free to apply. Your request to join is reviewed for approval within one day.
1. Click Apply Now' and provide your details on the Signup Page.
2. You can access ScanMyPhotos' affiliate materials and assets once approved. Our team is here to answer all your questions.
3. Our real-time tracking guarantees prompt payments for earned commissions. We can design personalized, branded promo codes using your name and provide custom, exclusive offerings. The offer and program terms deliver everything you need to be successful.
To your success!