The Story Behind ScanMyPhotos
Because we are obsessed with storytelling, we pioneered innovative ways to tap into emotions for over three decades. Photographs are our template to unlock nostalgia, family adventures, and milestones in people's lives across the country.

Building lasting connections with customers is at the heart of what we do. What sets us apart has more to do with "The Disney® Magic" philosophy and aspirational thinking. Our innovations begin by engaging customers to make them smile and become our cheerleading evangelists and ask for their feedback.
THE ART OF DIGITIZING PHOTOS
We pay more attention to detail than others even think about. Enhancing the customer experience goes beyond our passion for preserving the nation's photo archives. We recognize the art of digitizing photographs and other analog media represents the stories of people's lives that will be cherished and preserved forever. Everything about the process must be extraordinary. It must be perfect.
HOW SCANMYPHOTOS ELEVATES THE CUSTOMER EXPERIENCE
Keeping the customer experience simple, engaging, and fun has been our hallmark since 1990. We hope you enjoy the all-new ScanMyPhotos.com, which incorporates all the most modern elements of online E-commerce online ordering.
---
---
We control every element of the ScanMyPhotos experience. Everything is internal, which provides easy access to control and monitor every step. The entire digitization process occurs in the United States, at our corporate headquarters in Irvine, California.
Over the years, we've been asked to franchise and open up other locations. Doing so would marginalize and affect our team's commitment to control everything, so it has always been a hard-pass no.
Another element that fuels our success is recognizing and celebrating the diversity of people and ideas.
Our business development and innovation departments are empowered by customer comments. They provide insights we may have overlooked or never even thought about. Another unique value proposition is our team of concierge support experts who enable us to quickly engage with customers, solve problems, and be attentive to every challenge that needs to be solved.
Once identified, we implement changes immediately — using the "fire-ready-aim" approach rather than spending valuable time focusing on relentlessly just aiming. We start by pressing the metaphoric fire (launch button). Then watch what happens and adjust the strategy afterward.
ONE GOAL: MAKE EVERY CUSTOMER EXPERIENCE UNFORGETTABLE (IN A GOOD WAY)
You may have heard the term "The Disney Way?" That has always been our model as we fine-tune The ScanMyPhotos Way to make every customer experience extraordinary. We recognize the people who trust us are our cheerleaders, evangelists, external marketing team, advertising, and goodwill ambassadors. The ScanMyPhotos Way means we never dismiss new ideas and suggestions. Since 1990, we have thrived by creating unforgettable customer experiences by carefully listening and launching new ways to improve the experience.
To maximize the ScanMyPhotos experience, we study and read everything about marketing and photography and attend a dozen conferences each year. We have been part of the annual Consumer Electronics Show in Las Vegas for over three decades. This includes meeting tomorrow's technology superstars to learn from them and share ideas.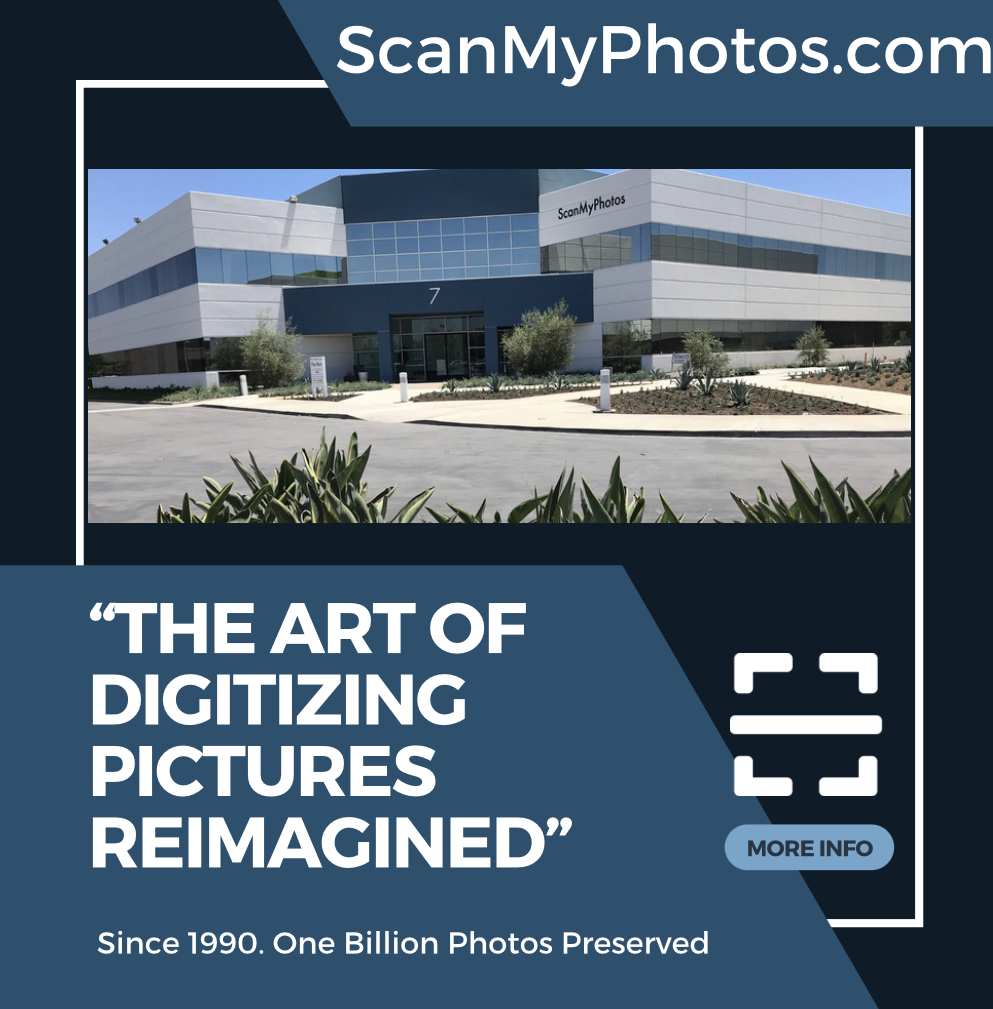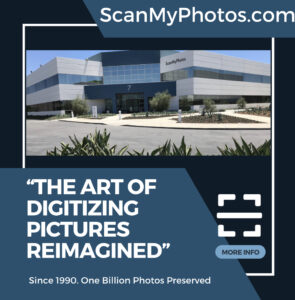 We studied everything about Walt Disney's history, passion, and innovations. This even included visiting Disney theme parks around the world. Like how Walt Disney, the film producer and entrepreneur, pioneered a new way of looking at things and began his career with a mouse and an idea, we started with snapshots.
SCANFAST – PHOTO MEMORIES ARE DIGITIZED AND IMMEDIATELY RETURNED!
For us, the years have transitioned into extraordinary innovations in the photo-imaging space. Whether it is for a memorial service, a last-minute anniversary gift, or another occasion, we realized customers who rediscovered their photo history do not want to wait weeks or, as in the case of another service, months. To us, that is unacceptable. In the age of instant gratification and lightning-fast speed, think about how quickly your orders are received when you click on Amazon to buy stuff.
This level of service has been the foundation for what we do and the cornerstone mission of our new ultra-fast, SCANFAST service. When you select "Express Next Up Touchless Scanning," it is precisely that. Upon receipt, your order is digitized and returned with what you selected — from DVD data disks, 8 GB custom flash drives, or instant uploading to view your memories as soon as they are digitized. Express VIP next-up service is only available when you order the highest-level resolution scans. Example. You must order 600 dpi resolution (photos) and 4,000 dpi resolution (35mm slides and film negatives) to move your order to the front for expedited service.
THE PLEDGE GUARANTEE
The cornerstone of everything we do at ScanMyPhotos revolves around customer service. There is no room for error. We have one shot at making everything perfect. This leads to a lesson and what is lacking at many E-commerce companies, maintaining a pledge guarantee. If you design all the systems to create an extraordinary experience, you must have a pledge guarantee. Beyond words, companies must always be committed to following that pledge. Our pledge guarantee is not static but is constantly refreshed and updated with new guarantees.
---
---
We even take pride in our marketing department which focuses on psychographics to understand consumers' purchasing habits. This led to some interesting revelations, including divorce and natural disaster preparedness as top reasons to digitize pictures. The time to safeguard your archives from wildfires and hurricanes is before a storm surge, or fire wipes out your photo albums.
THE NEXT LEVEL OF CONCIERGE CUSTOMER SUPPORT
Every company must have a guest service team unlike any other. Rather than hunting for a phone number or trying to unlock how to connect with a business, online support is mandatory. At ScanMyPhotos, we have them all — from our phone number, full contact information, live support, and even a Twitter direct message tool that links to direct engagement to solve every question.
PAY JUST FOR WHAT YOU NEED
Why can't you have the best service AND the lowest prices? When you go to a restaurant and want dessert, why pay for the appetizer and entree?
To maintain low prices, we provide basic scanning and augment that with premium add-on features, such as photo enhancement, professional high-resolution scanning, same-day express service, and instant uploading to view your photos as they are digitized. At ScanMyPhotos, you can click to order basic photo scanning or enhance it with upgrades.
THE NEWS BEHIND SCANMYPHOTOS
We are famous for and regularly score national news profiles on our relentless passion for reinventing and enhancing the customer experience.
A WORK IN PROGRESS
Constantly pivoting and learning from misfires is another hallmark. We pride ourselves on humility, acknowledging when we fail — step back and aim to fix the challenges. Our biggest challenge was when film transitioned to digital, and our retail photo labs faced creeping obsolescence. We had to reimagine everything. This task started by identifying there are trillions of pre-digital snapshots. The solution was to get creative — pioneering a new way to bulk scan pictures — 1,000 photos scanned in five minutes.
PICTURES ARE DIGITIZED THIS FAST
LOOKING FOR NEW SUPERSTAR PARTNERSHIPS
Our next milestone undertaking is to link with other photo industry superstars. To create a photo marketplace with vertical brands that complement our service. A top question we receive after digitizing pictures is, "what's next after my photos are digitized?" This is why we are working to provide a strategic partnership with other brands, photo-sharing apps, archival, and photo gifting products. This plan includes collaborating with extraordinary partners to boost the awareness of photography and better enjoy all those precious memories captured on photographic pictures, 35mm slides, home movie film, VHS tapes, and film negatives. We always look for synergistic partners, from businesses to social media influencers.
EPILOGUE
Please join us and follow along as we pioneer and introduce new strategies and innovations to enhance the photo preservation experience so you can share your family history.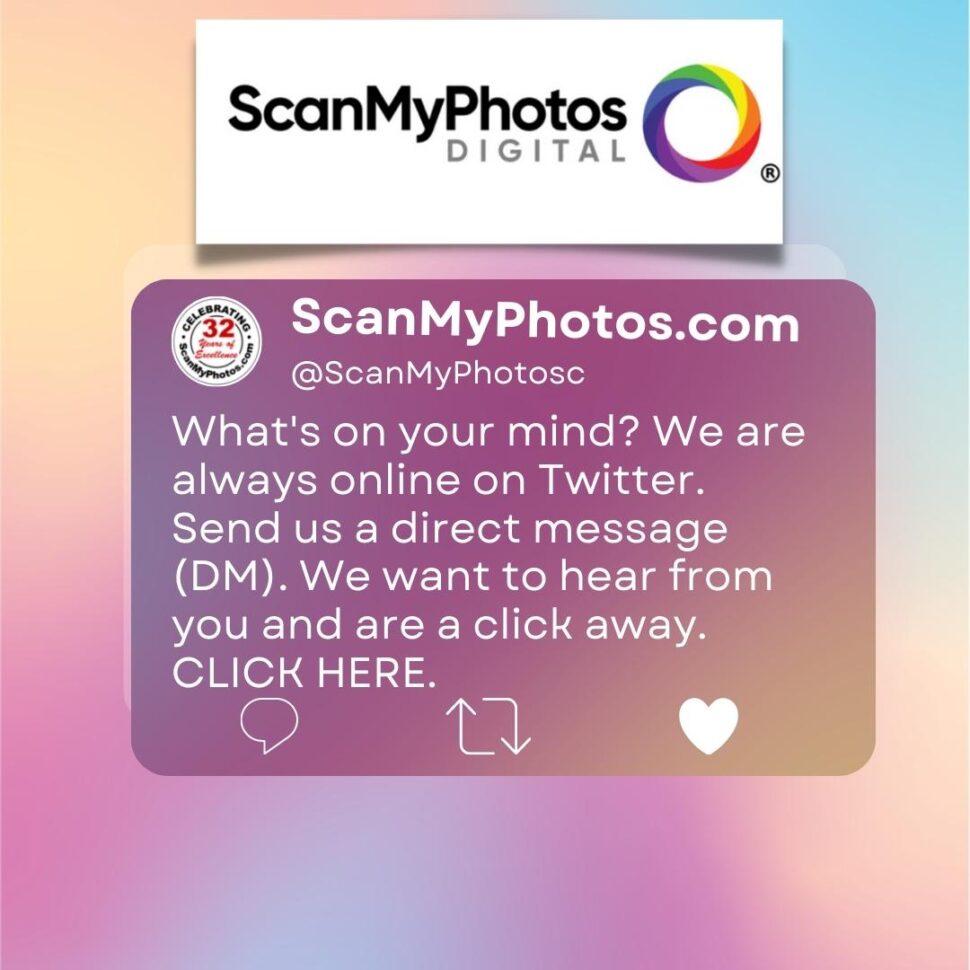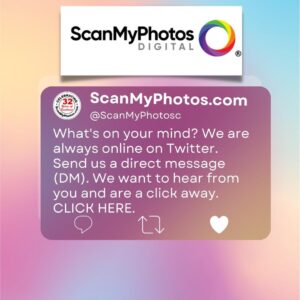 VISIT SCANMYPHOTOS AND START YOUR OWN PHOTO DIGITIZATION PRESERVATION PROJECT
FOLLOW THE SCANMYPHOTOS NEWS ON TWITTER [@ScanMyPhotosc] 
Want news updates, discounts, and promo codes to save at ScanMyPhotos.com? Click here for our free "Tales From The Photos We Scan" email shares. 
PHOTO SCANNING | SLIDE SCANNING | NEGATIVE SCANNING | VIDEO TO DVD |PHOTO RESTORATION | E-GIFT CERTIFICATE
Sign up for FREE tech and photography news, tips, and loads of flash sale discount goodies