Hello photo archivist; we've curated a list of popular ScanMyPhotos Journal articles for you. Check back as more are added. Thanks for reading, and please subscribe for free email updates, news, tips, and LOADS OF PHOTO SCANNING DEALS.
The review: "I and the people interviewed for my [Associated Press (AP)] story had a great experience with ScanMyPhotos" — Michael Liedtke, AP reporter.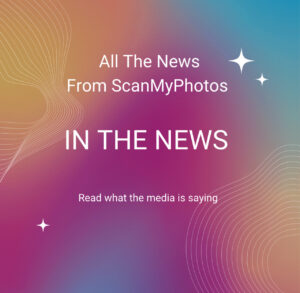 In The News: Get up-to-date news and reviews from the industry's leading expert on digitizing photos. Read what photography, consumer and tech experts say about the latest innovations at ScanMyPhotos.com.
15 Reasons You Should Digitize Your Photo Collection Right Now: Have you been looking for memorable, long-forgotten family photos? You know, the ones you have no idea where you put. We have a few ideas for recovering them to preserve and share. They may be in an old shoebox under your bed. They could be in your attic. Maybe you hid them in the back of your closet. Wherever they are, ScanMyPhotos.com is here to help preserve them all.
Claim your instant rebate — Refer ScanMyPhotos or share your experience on social media to receive an instant $30 rebate sitewide on orders over $695!

Save 50% on Fill-The-Box Bulk Photo Scanning. The Best Way to Clean Up Your Photo Clutter: Are you looking for a way to unclutter your family photographs? Well, we have the perfect solution for you! We have just the deal for your home organizing project to save 50% on digitizing photo snapshots. We are offering this 50% discount for bulk photo scanning as a way to unclutter your family photographs. Now save 50% from digitizing your photo snapshots. Pay as little as $110 to have about 1,800 pictures digitized with free delivery. (Discount does not apply to FGC, eGift cards, or any other service but includes all add-on extra services for Fill-the-Box photo scanning).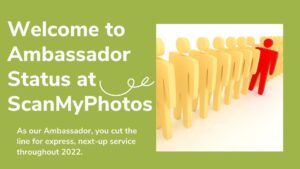 Free VIP ScanMyPhotos Ambassador Program: As a loyal ScanMyPhotos Journal reader, we prepared this unique program for you. You now have access to front-of-the-line processing. You are in. Welcome to ScanMyPhotos VIP Ambassador Status for express next-up photo scanning, and you save 25% on your next digitization service when you enter this promo code at checkout: Ambassador. To access the VIP Ambassador free line cutting and express scanning, just type: "Ambassador" at checkout under "special instructions.