BECOME FAMOUS! Your Fifteen Minutes of Added Fame As You Share Your Picture To Appear On Our All-New Website.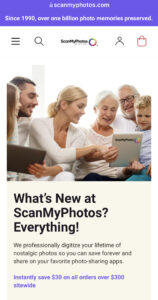 Today's Bonus: Save $30 Instantly on ALL ScanMyPhotos.com Orders Over $300.
Want to be the next one featured atop our all-new ScanMyPhotos.com website?
Send us a photograph showing how your family is enjoying, revisiting, and watching all your newly digitized photo memories.