Among your generations of photo snapshots, do you also have those extra-special family heirlooms that are fading away, torn or need a major makeover? ScanMyPhotos.com and its photo restoration experts do magic.
---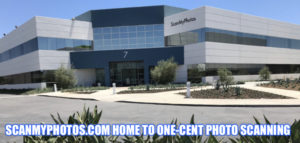 Before reading this report. An update. ScanMyPhotos.com professionally digitizes all your photos this fast.
CLICK FOR DETAILS TO GET STARTED.
While we have scanned six hundred million images, it is news stories like these that made us so popular, but no order is more precious or important than yours. We are here to help. For loads of photo tips, news updates, and crazy-discounted deals, sign up to receive free updates.
---
Results of a Damaged Photo Restored at ScanMyPhotos.com
Awhile back, USA Today's Jefferson Graham visited with us and had ScanMyPhotos.com digitally restore a photo that meant the world to his wife. She shared such a powerful story about why this tattered and torn photo needed to come back to life. All restoration stories are equally as emotional a
nd the reason why the photo imaging business is so enjoyable and important.
For more info on ScanMyPhotos.com and the Photo Restoration services, click here.
Click here to view more ScanMyPhotos.com photo restoration samples.
BEFORE OUR MAGIC PHOTO RESTORATION
[Picture restoration for Jefferson Graham]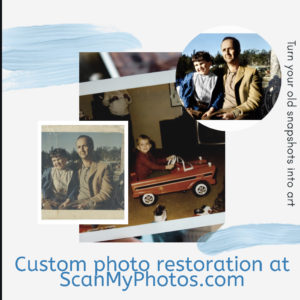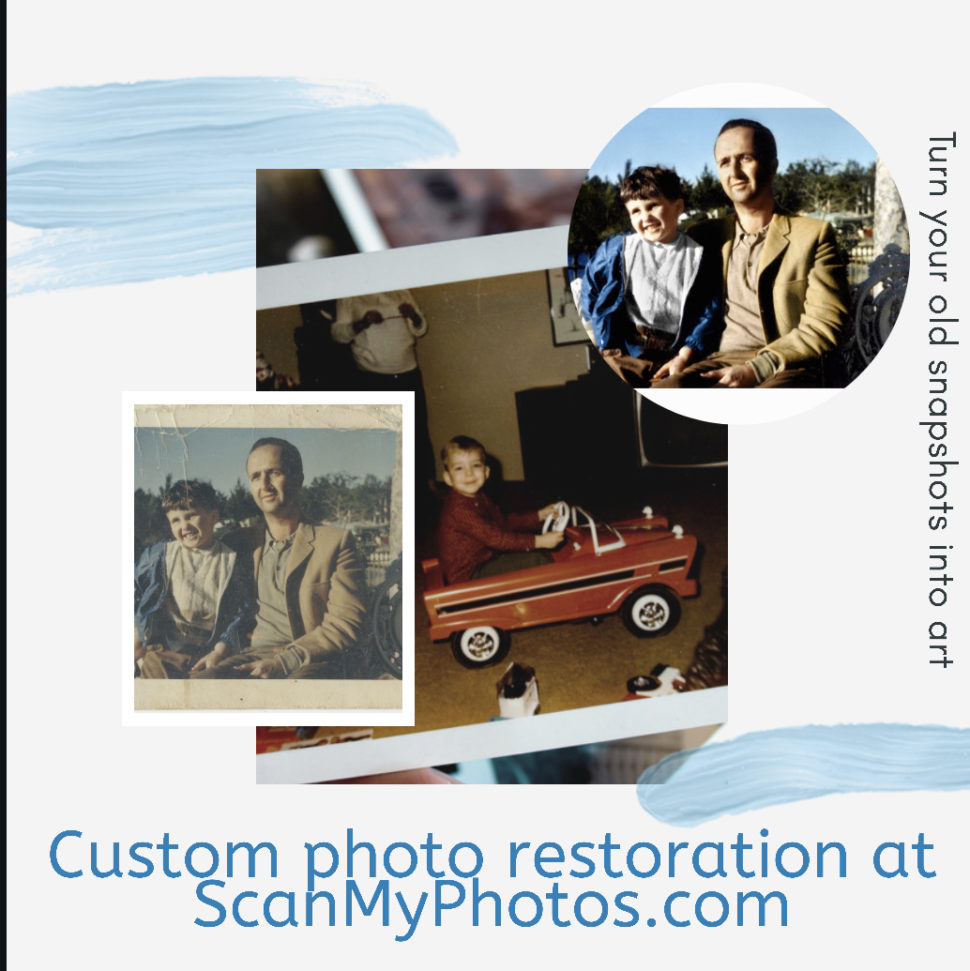 Let us restore and enhance your vintage photographs into works of art to be enjoyed and preserved for generations. Old pictures fade and degrade with time. Fix old and damaged photos with our custom professional Kodak-quality photo restoration today. Since 1990, our customers have trusted us with all their photographic and now digital imaging services. You are about to find out why.
---
---
Photo restoration from $45.50, with a 20-day turnaround. Faster turn-around times available and other enhancements are available. Add applicable sales tax. All major credit cards accepted. Due to the custom nature of this work, no refunds, online gift certificates, or promo codes are valid for any restoration work.
See a few samples of before and after.
Results of a Damaged Photo Restored at ScanMyPhotos.com
Find out how easy it is to have your photos restored.
Ready to order and upload your images, click here. This is also ideal for restoring those special pictures that were recently scanned by ScanMyPhotos.com
Follow us on Twitter