We are raving fans of the Keepy App to share your family memories, add voice messages to narrate the stories and even ordering magnificent and unique photo gifts.
From our 30 years as pioneers in the photo imaging industry, there have been many highlights. Externally from the smartphone, GoPro and cameras on flying drones. Internally our new one-cent photo scanning has changed the way pictures are preserved. But, we are excited to share what is the smartest find yet. You can even tag and add your voice to narrate.
What next after your memories are digitized?
Keepy does the magic of taking the photos and turning them to memories by adding voice and video narration from everyone in the family including parents, grandparents, extended families and friends.
Why ScanMyPhotos is raving on and awarded Keepy our FIVE STAR SEAL OF APPROVAL?

Keepy is an app with loads of wonderful feedback by its user's to preserve your memories. It is an ingenious way to better organize, save, privately share, enrich, and treasure everything, from your kids' art and memories as they grow. It also is the new home for cherishing all the 600 million pictures digitized at ScanMyPhotos.com.
The Benefits:
Share the story behind each photo to enhance the memory.
Invite family and loved ones to be your kids "fan" so they can access your wonderful memories on their phone or the web.
Keep your precious memories forever with photo books, printed canvases and much more.
Parents, grandparents and loved ones can leave voice, video or text comments on each memory to enrich it with love.
---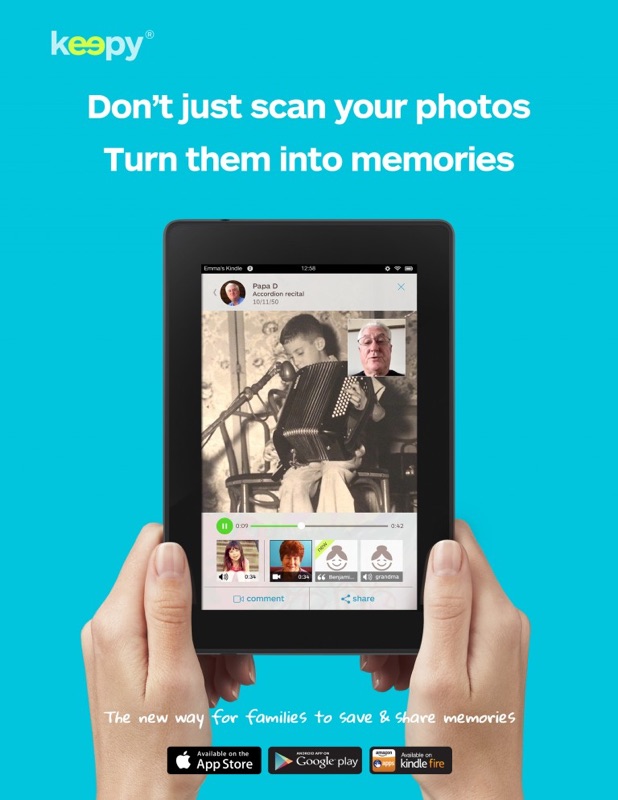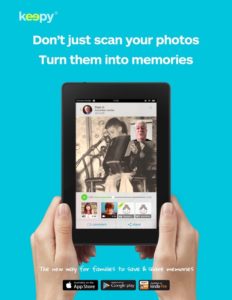 Hazel Thornton, creator of The Clutter Flow Chart Collection, NAPO member and one of our favorite bloggers is the publisher of "Organize for Life, Less Clutter. More Life." shares her review as a fellow Keepy fan.
Excerpt from "5 Ways To Organize Your Family History"
Benefits of Keepy:
(from my organizing and genealogy perspective)
Parents can preserve memories in a way that frees them up to ditch the physical paper clutter that inevitably piles up over the years. Thank you, Keepy!
Comments can be added in written, audio, or video form, allowing families and fans — think grandchildren and grandparents — to stay in touch and give each other positive feedback. Fans need the free app if they want to make audio and video comments, but not if they simply want to view their memories and make text comments.
Memories can be automatically synced (backed up) – we're talking original, full-resolution images — to your Dropbox account (which can also be free, depending of course on how much storage you need and want).
But Keepy can be used in other ways, too! I figure (and Offir agrees) that the more ways people start using it, the more likely the app is to be upgraded and customized to accommodate those different uses.
---
---
---
Keepy is very easy to use, especially for grandparents and people with limited tech experience. It is so easy and fun to use.
What is the Keepy Store? What can I do there?
The Keepy store is where you can turn your favorite Keepy memories into print magic. Magnets, coasters, framed photos, Photobooks are just a few of the great creative treasures waiting for you at the Keepy Store.
How much does Keepy cost?
There are several economical pricing plans. For your local pricing please check the App Store or Play Store.
Is Keepy private? Who can view my "Keepies?"
Privacy is a top priority for us, so we are proud to say that Keepy is a totally private platform and only you and your invited fans can view the memories you save and organize with it.
Click to get started to save kids art and family photos to share, preserve and turn into magical photo gifting items
Declutter Photos and What to Do With Your Child's School Artwork, Images, and Pictures
---
Follow ScanMyPhotos for loads of smart photography tips to preserve and share your nostalgic memories