NEW fill-in-the box bulk professional digitizing of 8mm movie film reels from ScanMyPhotos.com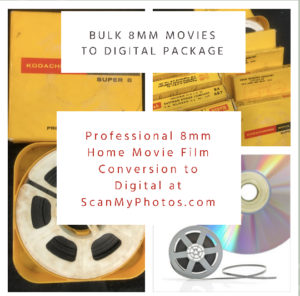 ---
CLICK TO ORDER: Prepaid 8mm Home Movie Film Reels Box to Convert to MP4 Files on DVD's or Flash Drive (added fee) — Price: $599.95
---
Holds up to 55 3" 8mm film reels or 10 7" 8mm film reels. Or mix to fill the box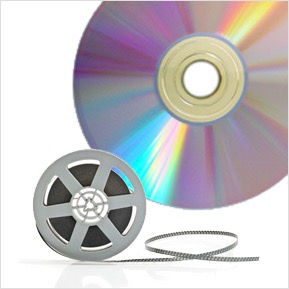 Save your old 8mm home movies before it fades away from the ravages of time by converting your 8mm and Super8 film reels to MP4 files for the next generation to enjoy.
Each prepaid box for digital transferring holds 8mm reel sizes between 3" up to 7" reels. You can fit approximately 55 3" reels or 10 7" reels in the new 8mm Transfer Box. Or you can mix and match reel sizes as well! The amount of feet totals to approximately 3000 feet when full. Click for packing instructions.
NOT VALID for 16mm film or any other services.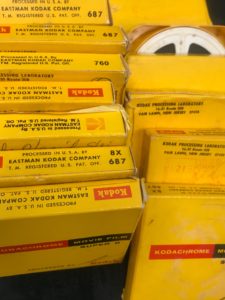 Due to swift technological changes, your returned prepaid box order for scanning must be received back to ScanMyPhotos.com within 6 months from the date the order was placed. Otherwise, the box expires and no consideration, obligation or monetary reimbursement of any kind will be provided.
Featured Add-on Services to Enhance Your Order Per Prepaid Box.
Scan in Order ($45.95)
Extra DVD's ($9.95 per)
Upload (74.95)
64GB Thumb Drive ($55.95)
1TB External Hard Drive ($125)
Free shipping of the prepaid box to you and back to us, add $19.95 when return film is selected to accompany your returned digital media. U.S. domestic orders only.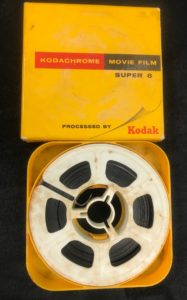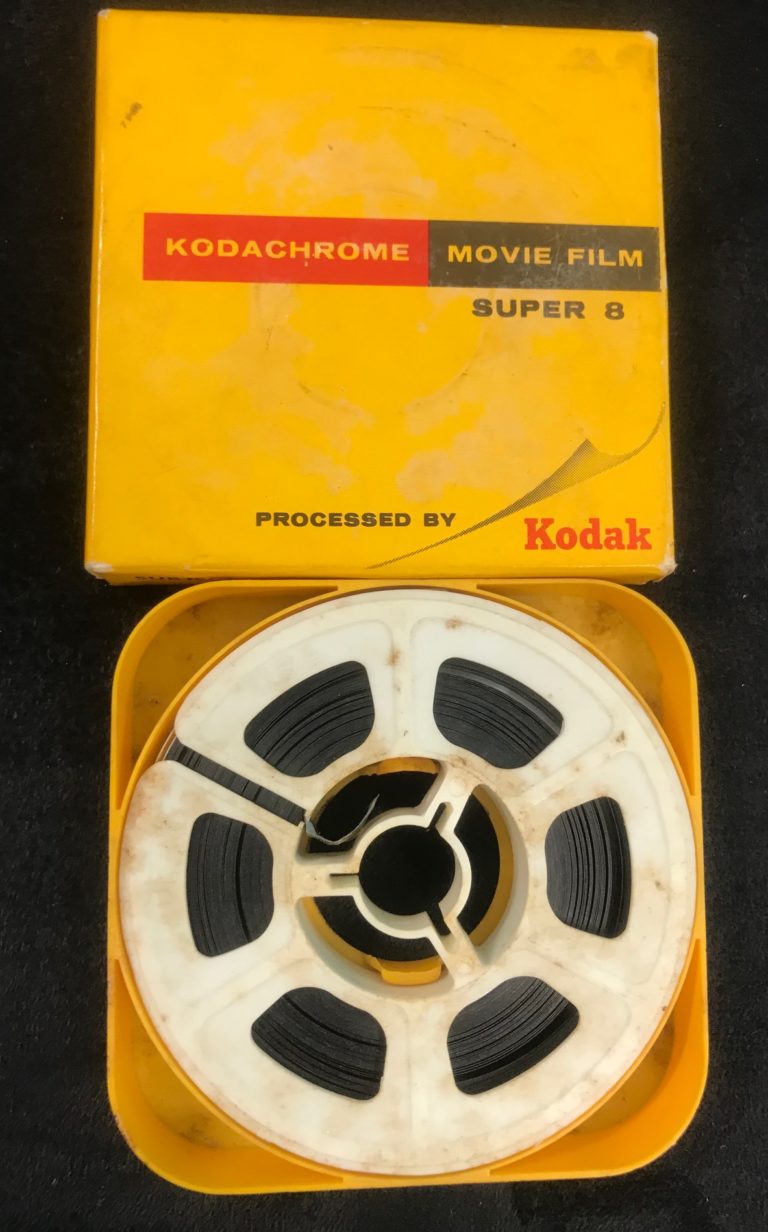 New Features: We enhanced this service to include improved 8mm analog home movie film transfer for higher-quality images.
Scene by Scene Density Adjustment – As your film is digitized, the technician will manually adjust a scene to ensure the best possible balance of clarity and overall look.
Manual Retiming – 8mm and Super8 film used to run at frame rates ranging from 16 to 23 frames per second, while DVDs run at 29.97 frames per second. To compensate for this discrepancy, other companies speed up the reel to match current standards, which causes the "silent movie" effect when everyone seems to be moving quickly. Instead, we capture your reels frame-by-frame so we can retime the movie to appear at a normal speed.
Flicker-Free Playback — With our frame-by-frame and manual retiming methods, the flicker effect that plagues so many other transfers is removed altogether.
Full-Frame Capture — We capture as much of the film as possible without resorting to stretching or distorting your movies.
Transfer Format — MP4 format stored on a DVD or flash drive.
Become Your Own Movie Editor – Search Google or use your favorite video editing app to merge all your 8mm movies into one file or clip scenes from various MP4 files to easily make your own compilation of favorite memories.
Uploadable — Ready to be added to your mobile devices so that you can easily share them with friends and family.
Transfer in Order — Each reel is used to create a chapter on the DVD. If you would like them in a specific order, simply number the reels and we will transfer them in that order.
Transfer in Order — Each 8mm film reel is used to create a chapter on the DVD. If you would like them in a specific order, simply number the reels and we will transfer them in that order. See added "scan in order" add-on fee).
Because we have found that Super8 reels transferred with sound can cause numerous complications and quality problems, we transfer all Super8 reels WITHOUT sound.
4-6 week average turn-around. Your empty prepaid fill-the-box order is mailed out within about 1-2 days from when your order was placed. You have up to 6 months to return the box for scanning. No credit for fewer items included or film that is damaged or unable to be scanned. Some restrictions may apply plus applicable sales tax. Special discounts can't be applied to prior orders.
Since 1990, we have preserved millions of precious memories. Check this item off your to-do list, and send us all your 8mm film today!
CLICK HERE TO VIEW INSTRUCTIONS TO PREPARE YOUR 8mm MOVIE FILM FOR SCANNING
---
---
Visit ScanMyPhotos for more help to digitally preserve your photo imaging memories.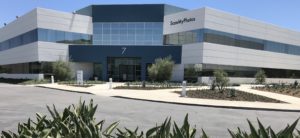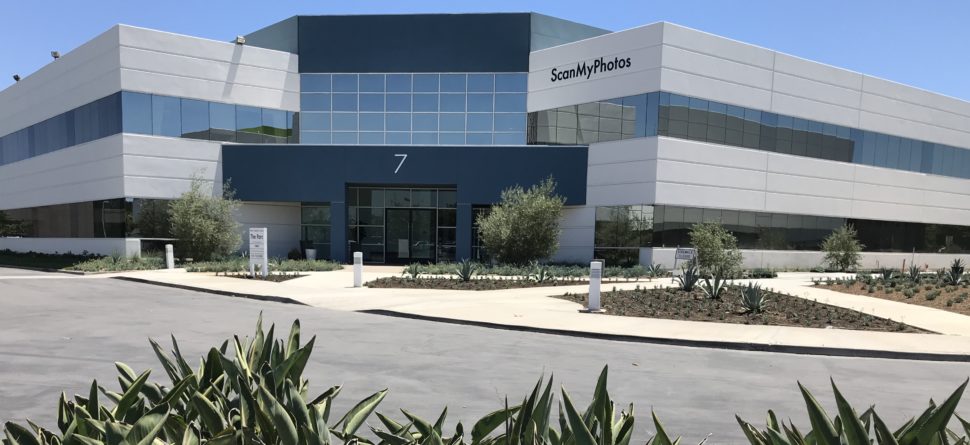 Grateful to customers like Wanda Thomson in Roslyn, NY for sharing this idea. She had tons of family movies to convert to digital.
NEW Bulk Prof'l 8mm Home #Movie Film Conversion to #Digital — https://t.co/H8lUR25YA0
What's your best idea and photo need ? We listen!
💖SHARE/RT pic.twitter.com/0X07F5kq3t

— ScanMyPhotos.com® 😷STAY HEALTHY, BE KIND, MASK UP (@ScanMyPhotos) September 14, 2019