The "On Computers" newspaper column appears each week in the" Arkansas Democrat-Gazette" and the Worcester, Massachusetts "Telegram." Columnists Joy and Bob Schwabach write the weekly syndicated "On Computers" column. This week, they profile the new one-cent photo scanning from ScanMyPhotos.com.
---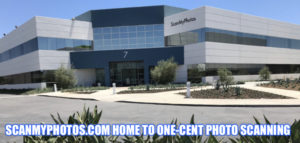 Before reading this report. An update. ScanMyPhotos.com professionally digitizes all your photos this fast.
While we have scanned six hundred million images, it is news stories like these that made us so popular, but no order is more precious or important than yours. We are here to help. For loads of photo tips, news updates, and crazy-discounted deals, sign up to receive free updates.
---




One of these days, we're going to free up space in our apartment by having all our photos scanned.




Several years ago, we sent a box of photos to ScanMyPhotos. They not only scanned them, but they also improved them. Which was good, because some were pretty faded. The problem is, we didn't save any storage space because we kept the originals they sent back to us. Parting with those is the tough part.




However, it's much better to have the digital version. The print versions sat in boxes, unlooked at for years. As soon as we had them digitized, Joy began making her relatives' day by emailing them every so often. Her nephew's new bride was especially happy to see what her husband looked like, back in the day. The cost seemed trivial.
Since sending out that box, ScanMyPhotos has a new offer: one cent per photo scanned. One customer sent in 9,100 photos. It cost him only $131.60. The catch: The photos are "social media quality," 150 dots per inch. That's fine by us. Good enough for email. TO ORDER.
---
---