Twenty-eight years is a long record and explains why we are staunch advocates for CES–the global consumer electronics and technology tradeshow that takes place every January in Las Vegas, Nevada.
Beyond networking and exploring the next "new–new" tech finds, we attend in our role for providing digitized photographic content for sharing and uploading to the thousands of photo-sharing gadgets and devices.
ScanMyPhotos.com CEO, Mitch Goldstone, was interviewed for our advocacy in support of diversity and more equality representation at the world's largest gathering place for innovations and technology.
It is not enough to have women just address the small breakout sessions at the diminutive LVCC North Hall rooms. They and the entire rainbow canvas of diverse representation must also be on the main stage, where thousands attend to hear the keynote addresses.
This year all those keynote presentations are featuring only men.
We were among the first to take note that the keynote speakers at CES are void of diverse representation and we took action, including launching a large social media campaign. The twitter hashtag to follow is #ChangeTheRatio.
Due to the lack of diversity at CES, we pulled our 28-years of attendance because #changetheratio has become a thing. This signal along with many others creating a viral campaign is intended to encourage CES to broaden its scope of outreach and better represent women and minorities. There is just a month to go, so we are hoping to reevaluate and continue with our scheduled attendance at CES.
Part of the CES woes was revealed after reviewing archived past photos from our nearly three decades of attending. We noticed a disconcerting quandary. There have been too few female attendees. A solution is to have businesses register and send more female employees and minorities to #CES2018.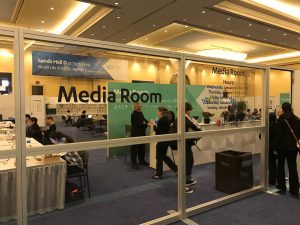 ScanMyPhotos.com was interviewed by Lauren Johnson, a senior technology editor for Adweek. The article, "With No Women Keynote Speakers, Does CES Have a Diversity Problem?" centers around the conference's lack of female keynote speakers.
Excerpt: For the past 28 years, Mitch Goldstone, CEO of ScanMyPhotos, a company that transfers analog photos to digital, has attended CES but after the weeklong dust-up, he doesn't plan to attend. "CES needs to represent a better portrait of representing consumers—all the people who buy the stuff that CES showcases," Goldstone said. "It's not just women, it's broader diversity." He suggested Lisa Su, CEO of Advanced Micro Devices as a name CES' organizers should consider.
---