There are moments in life you can never re-create, no matter how hard you try. The closest we can get to re-living these preserved memories is through our photos. ScanMyPhotos customer Lynne Stahler has known this to be true for a long time.
Lynne is an avid photographer who has taken mountains of photos of her family over the years—she has nearly 20,000 photos on her computer alone! When asked if there was one photo in particular that was more special than the rest, Lynne replied, "All of our photos are special in that they document our lives."
In addition to her passion for preserving her family's memories, Lynne is dedicated to philanthropy, and has made sure her two daughters grew up with the same dedication.
Around 2008, Lynne and her family became involved with a foundation started by a friend, Education for All Children. The organization provides scholarships, mentoring and global connections to children in Kenya so they have the highest potential to hold good jobs and become the leaders of their generation. As part of their involvement with the organization, Lynne and her family flew to Africa to provide hands-on help to the organization. In addition to helping the children, the trip resulted in many amazing family memories—including a tented safari out on the plains of Africa.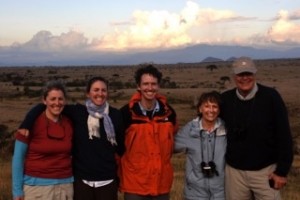 These are among the many other memories Lynne preserved with her ScanMyPhotos purchase.
"I was searching Google to find out what to do with my boxes of photos and found ScanMyPhotos featured in a USA Today article."
While Lynne admits it was nerve-wracking to send in such precious cargo, she was put at ease with the ScanMyPhoto's communication and customer service.
Some of her scanned photos are now making their way around Facebook as Lynne's youngest daughter has been busy posting. And while Lynne admits that some of the posted photos are funny or amusing, it's wonderful to be able to re-live those moments and make sure they're safe for generations to come.