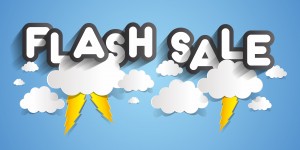 How do you keep loyal customers fiercely loyal, while also catching the eye of those "just browsing"?
A flash sale, of course! Offering a 24-hour deal is a great marketing strategy to use that will boost online sales, increase engagement, and improve consumer opinion about your brand.
Flash sale, deal of the day, 24-hour promotion—whatever you call it, the definition remains the same: a sale on a specific product or service that only lasts for 24 (or sometimes even 36) hours. The goal of this sale is to:
Skyrocket sales on a particular product or service
Appeal to new customers by offering a deal they're itching for
Retain and improve the loyalty of customers who are already big fans of your business
We recently ran a flash sale at ScanMyPhotos and the results were even better than we expected. The day we launched our deal we saw sales shoot up by 580%, while both the email announcing the deal and our website traffic experienced a spike in engagement.
So, think you're ready to run your own flash sale? Check out these three tips we learned from running a flash sale:
1: Prepare for the demand
Make sure the inventory is ready to go, that your customer service reps are in place for a high volume demand, and that you can run the sale as smoothly as possible on your website. If you have a number in mind of what you think the response will be, double it, just to be sure.
2: Extend the sale
Why end a good thing too soon? If you're seeing your product flying off the shelf, then capitalize on it by extending the sale. This will give those who were on the fence a little bit more time to make a decision to purchase.
3: Have a follow up plan
Now that you have new Facebook and Twitter followers, email subscribers, and a growing database of happy customers, make sure you have a plan that will continue to grow the feel-good vibes from the sale. Try segmenting these new customers into a "flash sale" group, offering them exclusive deals solely because they partook in the last flash sale.