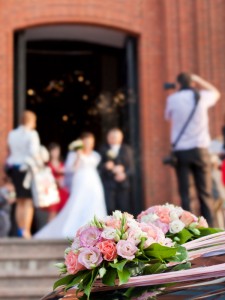 Long after the flowers have wilted, the dress and tux have been cleaned and stored, and the thank you notes have been written, the photos from your wedding will remind you of what a special day it was. To ensure you not only like but absolutely love your photos, here are 6 tips to help you choose the perfect wedding photographer:

Know your style
Before you even talk to a photographer, you need to determine the photography styles that you prefer. Most photographers will shoot a mix of candid, spontaneous photos of your guests, the décor, and small moments that are easy to miss and classic, posed portraits of your wedding party. They'll also do a mix of black and white and color photos. If you want all color or all candid, you'll need to let the photographer know.

Research, research, and research some more
Ask friends for recommendations and browse online reviews of local photographers. Look through their website, blog, and social media accounts for samples of their work and to get a feel for their personality and style.


Interview a handful of photographers
You might love what you see online, but you really need to meet a handful of photographers in person to see if you actually like them and feel comfortable with them shooting one of the most important days of your life. They'll likely interview you too and ask questions about your venue, style, and what you expect, so be prepared with answers.

Study personality and photo albums
The importance of working with a photographer with a great personality – one who is collaborative, full of ideas, open to listening, and a great leader who can take charge and get the photos you want – is critical. So is looking at entire photo albums from a wedding, not just favorites in a gallery, to make sure the photographer is capturing emotional moments, using great lighting, and overall taking high quality photos of the entire day.

Review the contract carefully
There is nothing worse than an unpleasant surprise on your wedding day. Review the contract carefully to ensure you are getting the photographer (or team) you want and that you understand how the photos could be used for promotional purposes by the photographer or studio.

Clarify what to expect post-event
It can take up to 6 – 8 weeks to get your photos back from your wedding, as there will likely be hundreds – maybe thousands – of photos to sift through and edit. Be sure to ask when you will get the proofs, how many you should expect, and if you can make prints of the photos yourself.