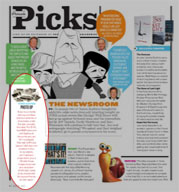 Quick, can you name the most widely read magazine in the United States? I bet you didn't know that it is Parade Magazine which has a circulation of 32.5 million and nearly 60 million readers. Additionally, the Parade Digital Partners, which includes Parade.com, has nearly 50 million unique visitors every month. Typically the magazine only has one main article mixed with some smaller articles and regular columns. One such column is the "Parade Picks" column which highlights various books, movies, and products that the editors think their readers would be interested in.
You may wonder why we mention these facts about another website and magazine? This Sunday while you enjoy your coffee, be sure to look for ScanMyPhotos in this weekend's edition of Parade Magazine as one of the "Parade Picks". We couldn't be more thrilled that such a widely read and respected magazine took the time to look our way. As they put it, "If you're currently storing countless precious pictures in shoe boxes under the bed, consider this deal."
It's never too soon to think about digitizing your old photos and with our Prepaid Photo Scanning box, the price is right. For just $159, we will scan however many photos you can fit in the box we ship to you. The average box holds about 1,800 4″x6″ photos which works out to just 9 cents per scan. Best of all, shipping is 100% FREE!