As Yoda once said, "Graduations lead to emotions, emotions lead to stress" (OK, I may have that a little wrong) but a well prepared photographer will have one less thing to worry about on this big day for the graduate in your family. Follow these tips and tricks to capture this important event.

Be Prepared
Make sure your camera's battery is fully charged
Clear your memory card to maximize space for new photos
Put your freshly cleaned memory card back into your camera
Review your owner's manual if it has been a while since you used the camera to unsure you aren't fumbling with the it while special moments pass you by
Lastly, take some test pictures the night before to ensure all is working properly.
Before the Ceremony
We suggest taking only a few staged photos before the graduation. Before the event, families are rushed, schools have tight schedules, and often flash photography is prohibited during the ceremony if held indoors. After the event, everyone is a bit more relaxed and on less of a schedule so it creates a more relaxed feel to the photos. Additionally, your graduate will be with his/her friends so getting group photos is even easier than trying to coordinate multiple family's schedule prior to the ceremony.

Set the Scene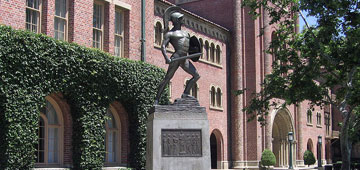 Often times you are going to have some free time before the ceremony while the graduates are sequestered off waiting for instructions about the ceremony. Take this time to take pictures of things that help set the scene. Take a picture of the school's name or seal or any other iconic images of the school (think the Rockafeller Chapel at the University of Chicago or the Tommy Trojan statue at USC). Take pictures of the empty seats the students will fill as they come in.

Capture the Grad
Don't forget that this day is all about the graduate and what they are going through. Capture the pride, the stress, the smiles and embarrassed looks as you snap off pictures. Capture everything the graduate is feeling while they are getting ready at home (doing makeup, shaving, putting on the cap and gown, etc.). They probably don't want you around during this time so try to stay out of the way and don't keep ask "Look at me, say cheese!" Be a fly on the wall and let your graduate get ready as if you weren't there.

Who Was There
Be sure to take pictures of friends, family and teachers; anyone that was important to your graduate during their time at school. Posed photos are great, but the best are the candid photos of your graduate interacting with these people. Stay out of the way and capture the true emotion of the moment.

Pomp and Circumstance
Soon enough the ceremony will be starting so try to get as close to the stage as possible or have a really good telephoto lens. Often, these photos are the toughest to get good shots of since you are often restricted as to where you can go, when you can use a flash and the view you may be stuck with when your graduate hits the stage. Remember, if a flash is allowed, it typically will only help on subjects around 10 feet away or closer. If you are 100 feet away from the stage, all that flash is going to do is annoy those around you and illuminate the backs of the 5 people in front of you.

After the Ceremony
Some important moments to capture:
The graduate holding their diploma and tossing their hat into the air
Clear your memory card to maximize space for new photos
Pictures of you with your graduate (you will need to enlist a helper on this one)
More candid photos of the graduate interacting with family, friends and faculty
Post graduation parties
Don't forget brothers and sisters, especially younger siblings, as many will be competing for attention and taking pictures of them may satisfy their need for attention.

PHOTO OPPORTUNITY
This is also a great time to capture younger siblings or other young family members wearing the cap. These will come in handy down the line once they reach graduation age. Plus, it keeps the younger kids engaged and gives them a preview of things to come.
IMPORTANT TIP – Use your flash outdoors. Bright sun means deep shadows that often seem to mar expressions and features. But no matter how bright the day is, if you are shooting up close, remember to turn on the flash and get within a few steps of your subject, so the flash has enough power to lighten those harsh shadows and get all the detail you want.

After the Event
Once you have all of your photos, be sure to give your grad a digital copy of all of them. Don't bother editing or sorting through the photos for the ones you like best. That random photo of your grad hugging someone you don't know may be important so let them sort through the photos on their own and determine what is and what isn't important.