Update those old home movies to DVD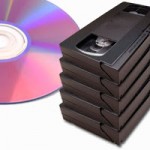 Don't be stumped for Mother's Day gift ideas on this holiday, May 13th. Every mom has countless tapes stored away in a closet (or in the case of my mom, still playing on her VCR) just waiting to be updated to modern technology. More than likely, you mom doesn't know that video tapes fade over time and it is unlikely the tapes are being stored in the optimum conditions either. Those tapes are in danger of losing their valuable content.

Transferring all those memorable home videos to DVD is the perfect gift for mom. ScanMyPhotos.com offers two options for professionally transferring VHS, VHS-C, and Hi8 to DVD:

Perhaps your mom had an old 8mm camera? Not to worry, we can transfer those too! 8mm reels are just 19¢ per foot transferred. Each DVD holds about an hour of video and we create separate chapters for each reel sent to us for quick viewing.

Sample of 8mm Reel to DVD