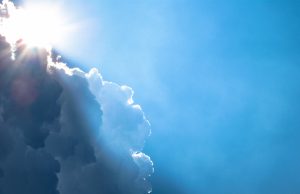 The 2017 hurricane season has been disastrous for the U.S. and Caribbean. Entire islands were decimated and miles of Houston saw flooding that reached as high as traffic signals in some areas. As more tales of tragedy emerge, we're all looking for a silver lining. In fact, during times like these we are reminded of this infamous Mr. Rogers quote:
"My mother would say to me, 'Look for the helpers. You will always find people who are helping.' To this day, especially in times of disaster, I remember my mother's words, and I am always comforted by realizing that there are still so many helpers — so many caring people in this world."
And that's what we're going to do. Check out the following uplifting stories from the aftermath of Hurricane Harvey and Hurricane Irma.
Human chains are among viral stories inspiring us out of Hurricane Harvey
Hand-in-hand these incredible people worked together to lead those in need through the flood waters and into safety.
"No beloved pictures… all gone," was a description of the devastating loss from the hurricanes, shared by Justin Timberlake during the #HandInHand Hurricane Benefit Concert telethon.
Saving Priceless Family Photos from Hurricane Harvey Floodwaters
An entire community that included "family members, friends, coworkers and waves of perfect strangers," flocked to an elderly woman's home to repair Hurricane Harvey damage. This included trying to save nearly 2,500+ vintage family print photos.
Couple Skips Wedding to Rescue People From Hurricane Irma — and Gets Married in a Hangar: 'We Wanted to Help'
When the call for help came through, this inspiring couple put off their planned wedding and opted for something more intimate—and heroic.
13-year-old rescues neighbors on air mattress during Harvey
This amazing young man used quick thinking to rescue 17 of his neighbors who didn't know how to swim during the flooding.
Nun with chainsaw clears trees post-Irma

A Florida nun was spotted pitching in with the Hurricane Irma relief efforts. It's not every day you see a nun with a chainsaw—and it's an amazing sight to see.
While things may seem bleak right now, it's important to keep hope alive by focusing on the bright side, and celebrating the helpers. And while staying positive is needed in times like these, remembering the importance of prevention is vital, too. Be sure to take this time to prepare for natural disasters—you never know when the next one might strike.
---
Trending ScanMyPhotos articles
The Surprise Anniversary Gift that Garnered Happy Tears
While DNA Tests Offer a Peek into Family History, Your Genealogy Efforts are Missing This
#DoSomethingGrand, Scan Your GrandParent's Photos For #GrandparentsDay
4 Tips for Taking Excellent Beach Photos
Why You Need to Digitize Photos and Preserve Them for Future Generations
How to Capture the Big Picture Across America #PictureLocalHistory
AP: What To Do If Your Home Is Drowning In Old Photos
4 35mm Slide Scanning Solutions for Your Old Pictures