A fantastic online photo digitizing service (Reviewed by Forbes).
Scott Kramer, Forbes Contributor: This Online Service Quickly Revives Memories And Friendships. [Reprinted from Forbes Magazine. Excerpt].
Forbes reviews photo scanning service, ScanMyPhotos: A fantastic online photo digitizing service

In the past 24 hours, I have reconnected with seven friends who I haven't spoken with in ages. You know how people just tend to slowly drift apart. A year turns into five, and then into a decade. It's not that I haven't thought about these buddies. But I haven't been motivated to call them for whatever reason. Until now. And that's thanks in huge part to an online service called ScanMyPhotos.com.

I've used this phenomenal Irvine, Calif.-based company before to digitize hundreds of old photos. But I recently came across an album full of old slides and strips of negatives. I'm talking about more than 1,000 snapshots. So I hired ScanMyPhotos to once again rifle through all of it and generate the digital versions of these photos. The service, speed, and quality exceeded my expectations.

Seriously, they sent me a link to the slides within about two hours of receiving them. As for the negatives, I received a link to the digitized positives within 24 hours. The quality of everything was top-notch – especially considering that much of my original material was up to 45 years old. I thought for sure the photos would be degraded. Instead, what ScanMyPhotos returned to me was nothing short of stellar — all in high resolution.

After sifting through all of the now-digital photographs, I began texting and emailing them to my long-lost friends. The magic began just minutes later, when I started hearing back. And it was amazing to reconnect and catch up – as well as share memories.

Not sure if I'm typical, but I've taken thousands of photos over the years. We have photo albums all throughout the house that we treasure. But recently – with the increasing threat of wildfires and floods in our area – I've had a yearning to preserve all of the images in a digital format that won't degrade over the years. It's quickly transformed from an idea into an obsession. And I think just about every image and video I've ever taken is now backed up into the cloud and onto a portable hard drive that's kept in a bank safety deposit box. The beauty of having them all in the cloud, of course, is that I can share them instantly with anyone. I was able to send my parents photos of them that I took as a kid. Some they've never seen before. And others they hadn't perused in years. I found a picture of my grandfather at my high school graduation, which blew me away because I had no recollection of him even being there. In a flood of emotion, I suddenly missed him even more.

And if you're wondering, yes it's generally very safe to mail in your photos to the service. In fact, ScanMyPhotos co-founder and owner Mitch Goldstone told me that 90 percent of his business comes from people outside the state mailing him batches of images and videos to digitize — he often receives them from people even in Hawaii and Alaska. Goldstone prides himself on completing scans quickly, properly, reliably, discreetly, and with the best possible quality. After he emailed me links to all of my images and videos, Goldstone expedited me back the originals, as well as two thumb drives and a DVD containing all scans, and a mini coffee table-style book with every image thumbnail printed in it.

If you're one of the many people undertaking a spring cleaning in your home right now, using this service is a no-brainer. And if you're like me, it will be your key to reconnecting with people from your past. All I know is that as my brain ages, I will forever be able to see firsthand memories and moments from my life whenever I want. And to me, that's invaluable.
---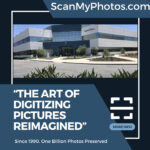 ---