The most unique collection of photography quotes.
These Will Have You In Awe – Favorite photography quotes shared by ScanMyPhotos.com.
Enjoy! If you share my insatiable passion for photography, what are your all-time favorite quotes from photography experts? I made this list of the best photography quotes — designed for all who share an interest in the art and power of pictures.
As a photo industry executive for more than three decades, this list represents some of my all-time favorite photography quotes. We have seen loads of pictures. Actually, one billion — that is how many pictures have been preserved at ScanMyPhotos since 1990.
Enjoy this collection of the best photography quotes. It is designed for all who share an interest in the art and power of pictures.
---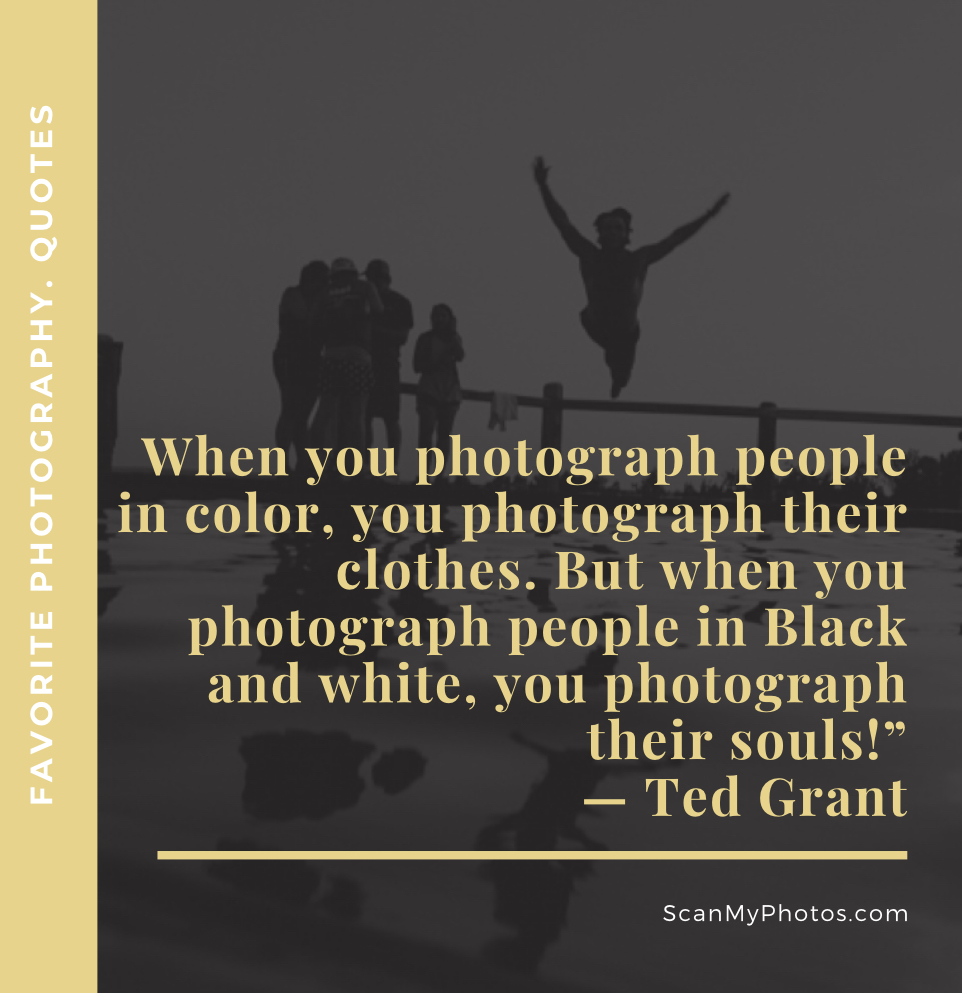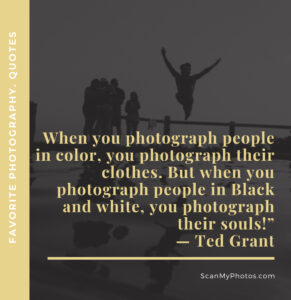 "When words become unclear, I shall focus with photographs. When images become inadequate, I shall be content with silence." — – Ansel Adams
"A thing that you see in my pictures is that I was not afraid to fall in love with these people." – Annie Leibovitz
"When you photograph people in color, you photograph their clothes. But when you photograph people in Black and white, you photograph their souls!" — Ted Grant
"Photography is a way of feeling, of touching, of loving. What you have caught on film is captured forever… It remembers little things, long after you have forgotten everything." — Aaron Siskind
"When I photograph I make love." — – Alfred Stieglitz
"The painter constructs, the photographer discloses." – Susan Sontag
"Light makes photography. Embrace light. Admire it. Love it. But above all, know light. Know it for all you are worth, and you will know the key to photography." – George Eastman
"It's one thing to make a picture of what a person looks like, it's another thing to make a portrait of who they are." – Paul Caponigro
"Your photography is a record of your living, for anyone who really sees." – Paul Strand
"In my mind, I visualize how a particular… sight will appear on a print. If it excites me, there is a good chance it will make a good photograph. It is an intuitive sense, an ability that comes from a lot of practice." – Ansel Adams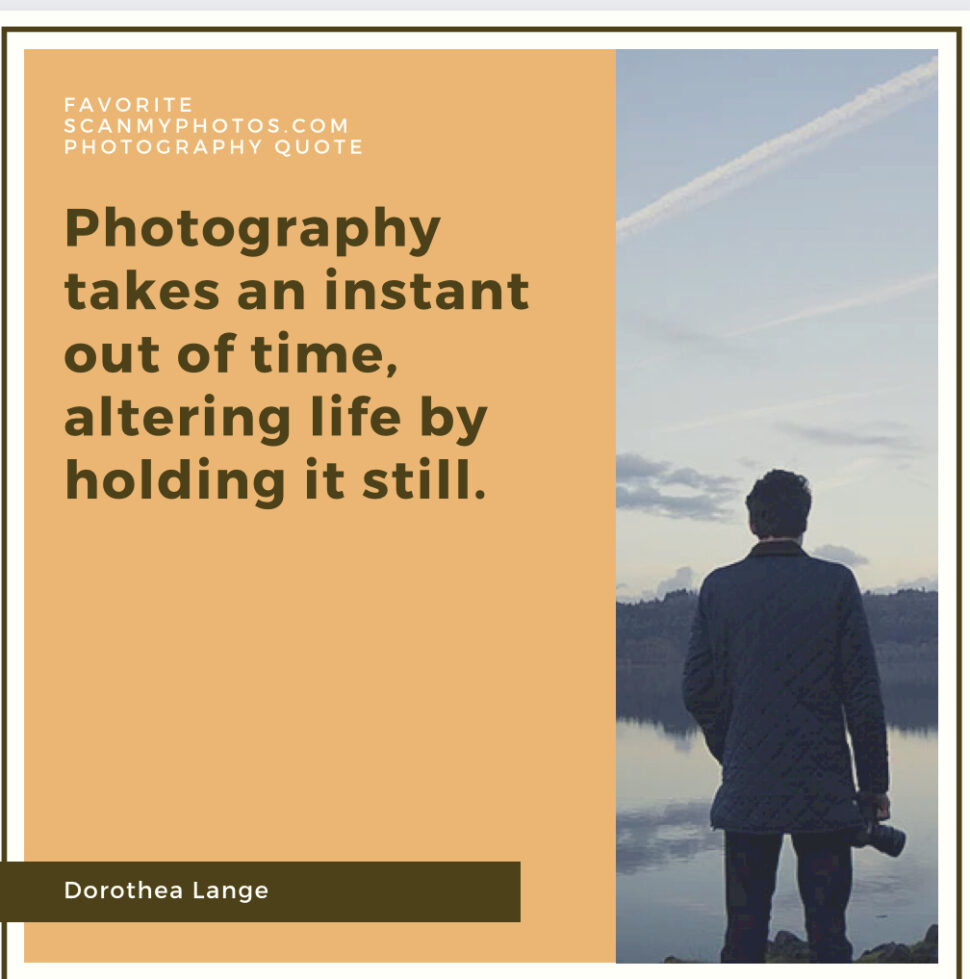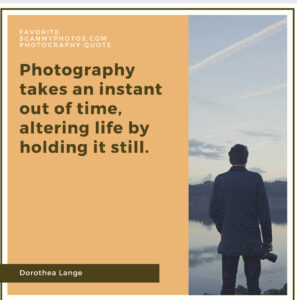 "My own eyes are no more than scouts on a preliminary search, or the camera's eye may entirely change my idea." – Edward Weston
"To me, photography is the simultaneous recognition, in a fraction of a second, of the significance of an event." – Henri Cartier-Bresson
"The camera makes you forget you're there. It's not like you are hiding but you forget, you are just looking so much." – Annie Leibovitz
"What I like about photographs is that they capture a moment that's gone forever, impossible to reproduce." – Karl Lagerfeld
"Photography is an immediate reaction, drawing is a meditation." – Henri Cartier-Bresson
---
Where are your pictures? Your lifetime of stories? Because this keeps happening, it's more important than ever to backup, digitize and preserve your history of art. Beyond photographs, 35mm slides must also be digitized and safeguarded.
---
"Photography has been my way of bearing witness to the joy I find in seeing the extraordinary in ordinary." -Harold Feinstein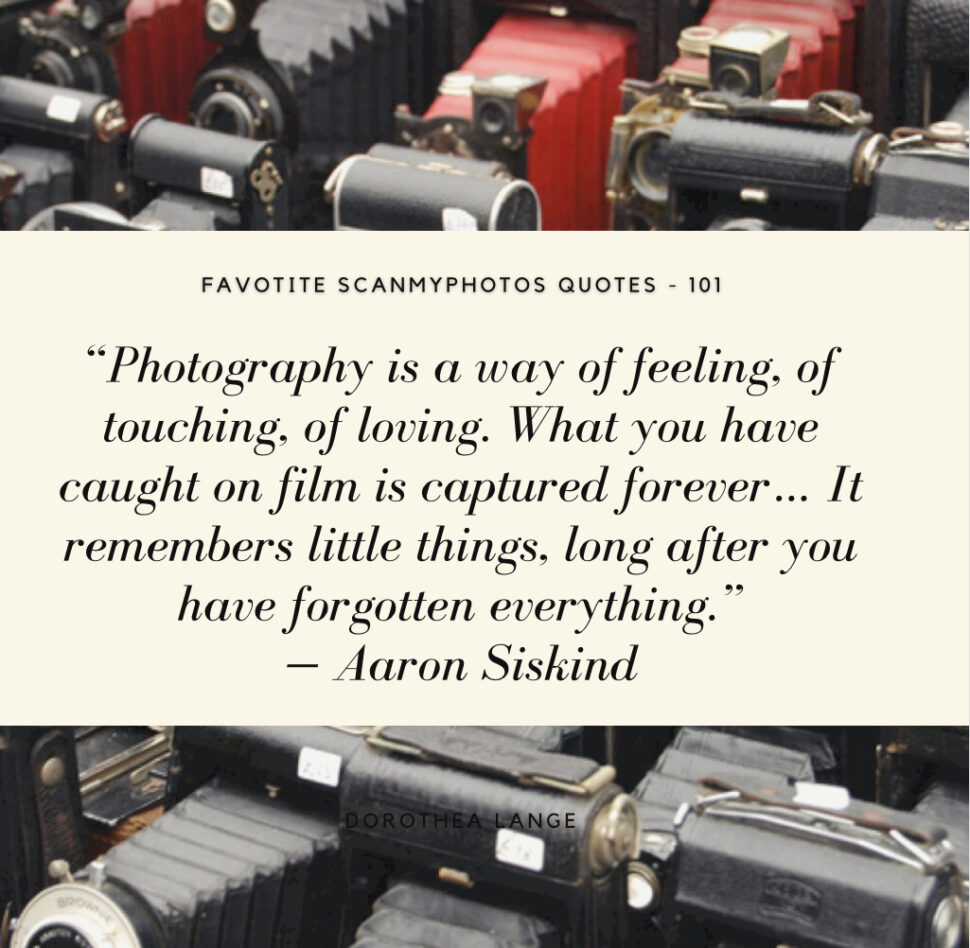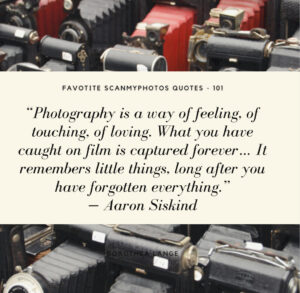 "You don't take a photograph, you make it." – Ansel Adams
"It is more important to click with people than to click the shutter." – Alfred Eisenstaedt
"The camera is much more than a recording apparatus, it is a medium via which messages reach us from another world." – Orson Welles
"The camera sees more than the eye, so why not make use of it?" – Edward Weston
"Photography is the simplest thing in the world, but it is incredibly complicated to make it really work." – Martin Parr
"The camera is an excuse to be someplace you otherwise don't belong. It gives me both a point of connection and a point of separation." – Susan Meiselas
"Photography takes an instant out of time, altering life by holding it still." – Dorothea Lange
"After following the crowd for a while, I'd then go 180 degrees in the exact opposite direction. It always worked for me." – Elliott Erwitt
---
Link to read the ScanMyPhotos Pledge Guarantee.
Want news updates, discounts, and promo codes to save at ScanMyPhotos.com? Click here for our free "Tales From The Photos We Scan" email shares.
PHOTO SCANNING | SLIDE SCANNING | NEGATIVE SCANNING | VIDEO TO DVD |PHOTO RESTORATION | E-GIFT CERTIFICATE