SAVE $599.95 Today. Remember all your nostalgic family memories captured on movie film?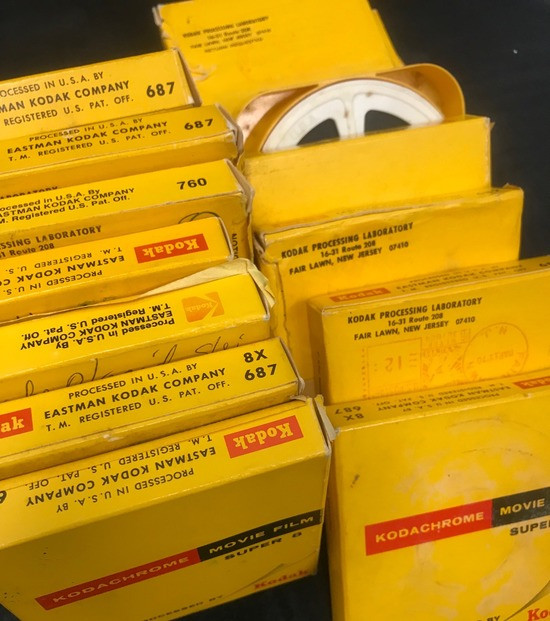 We cooked up a $599.95 savings for you. Rather than watching NetFlix and streaming movie services, watch your own movies. If you have home movies that are on 8mm and 16mm movie film, then you probably know how hard it can be to watch them when you want to, and how much trouble it can be to find the right equipment to do so. However, you don't have to go through the hassles of converting your 8mm film into digital files anymore. With the ScanMyPhotos pro film scanning service, your home movies will be converted to digital files that are compatible with all of today's digital devices.
BOGO (buy one get one) box to digitally convert your 8mm home movies to digital files with the new fill-the-box service. Each box holds up to 55 3″ 8mm movie film reels or 10 7″ 8mm movie film reels, or mix to fill the box for $599.95.
SAVE 50%. NEW ORDERS ONLY. CAN NOT APPLY TO PRIOR ORDERS OR OTHER DISCOUNTS. Select quantity two, get the 2nd box free. Use promo code: "BOGOFreeMovie"
SAVE $599.95. Your second box is free. Must enter this promo code at checkout:
"BOGOFreeMovie"
Never miss a deal or news on photography. Subscribe to the ScanMyPhoto Journal today. It's free.
In time for your next home organizing project and family reunions.
Rediscover Your Family Movies — Save Money and Memories
Get up to 55 8mm movie film 3″ reels digitized
Select two boxes, the second one is free, to get up to 110 reels digitized.
[Use"BOGOFreeMovie" promo code to instantly save 50%]
Includes free shipping*
---
CLICK FOR DETAILS AND INSTANT ORDERING
NEW fill-the box transfer of 8mm home movie film reels from ScanMyPhotos. Our customized professional movie film scanners have no sprockets or pinch rollers. This minimizes any risk of damage to your priceless movies. Your film is only gently touched on the edges with no image area contact. We do not use pressure plates, which often capture floating hair and other particles on the screen. Not using pressure plates also results in a cleaner digitized product.
CLICK TO ORDER: Prepaid 8mm Home Movie Film Reels Box to Convert to MP4 Files on DVD's or Flash Drive (added fee)
Regularly $599.95 per box. Limit 2 boxes.
BOGO TODAY — GET AN EXTRA BOX FREE
Each ScanMyPhotos fill-the-box holds up to 55 3" 8mm film reels or 10 7" 8mm film reels. Or mix to fill the box
---
Claim your instant rebate — Refer ScanMyPhotos or share your experience on social media to receive an instant $30 rebate site wide on orders over $450!
---
Save your old 8mm home movies before it fades away from the ravages of time by converting your 8mm and Super8 film reels to MP4 files for the next generation to enjoy
About: Each prepaid box for digital transferring holds 8mm reel sizes between 3" up to 7" reels. You can fit approximately 55 3" reels or 10 7" reels in the new 8mm Transfer Box. Or you can mix and match reel sizes as well! The amount of feet totals to approximately 3000 feet when full.
NOT VALID for 16mm film or any other services. No credit for fewer items included in the box or film that is damaged or unable to be converted. It cannot be applied to prior orders. Today only. Some restrictions apply plus applicable sales tax. Must use promo code at the time of order to get the second box free. ALL WORK PROFESSIONALLY DIGITIZED IN IRVINE, CA.
---
Click here if you're looking to get extra digital copies of your DVD cassettes, home movie film, pictures, 35mm slides, and film negatives.
WHAT NEXT TO DO BEFORE ORDERING?
Select from these featured add-on services to enhance your prepaid box order:
Scan in Order ($45.95)
Extra DVD's ($9.95 per)
Upload (74.95)
64GB Thumb Drive ($55.95)
1TB External Hard Drive ($125)
*Free shipping of the prepaid box to you and back to us, add $19.95 when return film is selected to accompany your returned digital media. U.S. domestic orders only.
New Pro Features: We enhanced this bulk movie film scanning to include improved 8mm analog home movie film transfer for higher-quality images.
Scene by Scene Density Adjustment – As your film is digitized, the technician will manually adjust a scene to ensure the best possible balance of clarity and overall look.
Manual Retiming – 8mm and Super8 film used to run at frame rates ranging from 16 to 23 frames per second, while DVDs run at 29.97 frames per second. To compensate for this discrepancy, other companies speed up the reel to match current standards, which causes the "silent movie" effect when everyone seems to be moving quickly. Instead, we capture your reels frame-by-frame so we can retime the movie to appear at a normal speed.


Flicker-Free Playback — With our frame-by-frame and manual retiming methods, the flicker effect that plagues so many other transfers is removed altogether.
Full-Frame Capture — We capture as much of the film as possible without resorting to stretching or distorting your movies.


Choose Your Transfer Format — 1) DVD; or 2) flash drive (add-on fee) format.
Become Your Own Movie Editor – Search Google or use your favorite video editing app to merge all your 8mm movies into one file or clip scenes from various MP4 files to easily make your own compilation of favorite memories.


Shareable — Ready to be added to your mobile devices so that you can easily share them with friends and family.


Transfer in Order — Each reel is used to create a chapter on the DVD. If you would like them in a specific order, simply number the reels and we will transfer them in that order.
Transfer in Order — Each 8mm film reel is used to create a chapter on the DVD. If you would like them in a specific order, simply number the reels and we will transfer them in that order. See added "scan in order" add-on fee).
Because we have found that Super8 reels transferred with sound can cause numerous complications and quality problems, we transfer all Super8 reels WITHOUT sound.
4-6 week average turn-around. Your empty prepaid fill-the-box order is mailed out within about 1-2 days from when your order was placed. You have up to 6 months to return the film eels for scanning. No credit for fewer items included or film that is damaged or unable to be scanned.
---