Thinking about dusting off the grill to celebrate our nation's independence with a BBQ this Fourth of July? Cooking out during summer has become as customary as apple pie and ice cream.

As you think about celebrating our nation's freedom this summer, it is also a smart time to think about freedom from clutter. Especially those shoeboxes of photo snapshots. "We live in an all-digital world," said Mitch Goldstone, president, and CEO of ScanMyPhotos.com, "and your decades of analog photos need to be digitized too."
---
BONUS: Use this promo code to save 10% on your next order: Independence
---
ScanMyPhotos.com will scan your boxes of photos, negatives, slides, and VHS tapes and make them electronic. They can do photo restoration as well.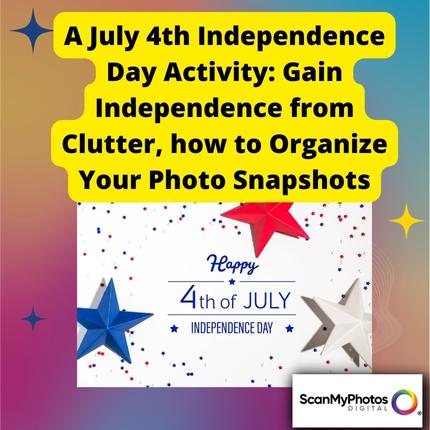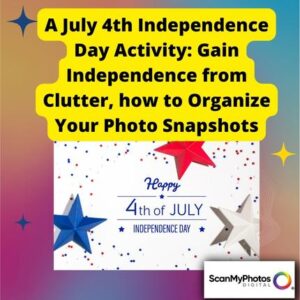 Kids, home from school for the summer, often wreak havoc on organizational systems, allowing clutter to build up in garages, closets, and under beds. Stress can heat up along with the grill as families try to restore order to their homes.
ScanMyPhotos.com hopes to help free families from clutter and is providing tips and information to help individuals enjoy life, liberty, and the pursuit of a well-organized home.
Reap the Benefits of Being Organized:

A NAPO consumer study found that 55 percent of the respondents would save upwards of 16 minutes to one hour a day if they were more organized. That translates into anywhere from two to 15 days a year being wasted!
"Getting organized is something that people know is beneficial, not just because of the obvious – saving time and money – but it really helps you save so much energy too," said NAPO President Standolyn Robertson. "I can't tell you how many people say they feel like a weight was lifted off of them when they finally got organized. They have more energy and feel more positive. Now, who couldn't benefit from that?"
Robertson suggests spending some time designing the systems you need to keep your home and office in order and then rewarding yourself with more time and energy to get together with friends and play with your kids and pets outdoors.
Secrets in the Bedroom….

In successive order, NAPO's recent study found that the top three disorganized rooms in the house are the bedroom, garage and home office/den. For married individuals, the garage was the most unorganized, while unmarried respondents cited the bedroom as the number one spot for clutter.
Here are some tips for organizing:

Bedroom Tips:
• Give away items that are still in good condition but you no longer need to local charities, or friends and family.
• Decide what you want at your fingertips and what can be stored away in decorative containers on top shelves, or in drawers.
• Go through your shelves and closets, collect all those photo snapshots and send them to ScanMyPhotos.com for affordable and super-fast scanning.
.
Garage Tips:
• Determine how you wish to use the space. Design a floor plan and stick to it!
• Get rid of things that don't work!
• Sort, purge and then decide the proper storage containers or fixtures for the treasures that you must keep. Clearly label both the tops and the sides of the containers.
• Consider floor-to-ceiling possibilities for shelving, racks, stackable drawers, hooks and
pegboards, and don't forget the rafters.
Home Office/Den Tips:
• Keep only supplies you need on a daily basis on your desktop.
• Create a paper flow system for your incoming documents.
• Use your inbox only for items that haven't yet been reviewed.
• Avoid looking at documents and placing them back on the desk. Make a decision about each document and follow through with it.
• Create a filing system for your electronic documents that mirrors the one you have for paper. Sort, file, and purge electronic information regularly.
• Keep the most recent papers in the front of the file. Whenever you open it, the current information will be on top.
How to hire a professional organizer:
A professional organizer enhances the lives of clients by designing systems and processes using
organizing principles and by transferring organizing skills. Professional organizers help
individuals take control of their surroundings, their time, their paper, and their systems for life.
[elements of this posting provided by NAPO]