Now That Traditional Thanksgiving family gatherings been canceled this year, according to family historians polled by ScanMyPhotos.com
---
Seven Ways to Celebrate Thanksgiving From Afar. Now That Thanksgiving is Canceled, What To Do?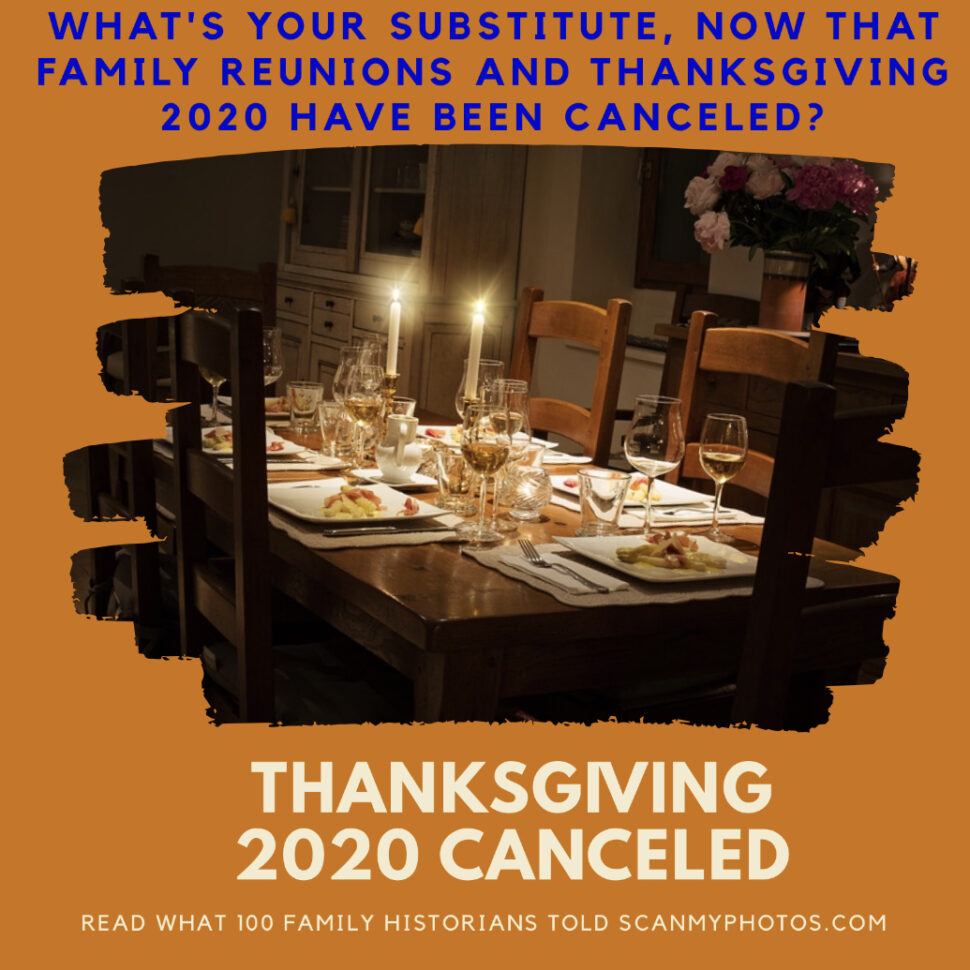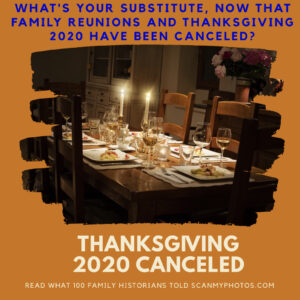 Online virtual gathers will replace traditional Thanksgiving holidays this year as the pandemic ushers in a 'new normal.'
One hundred family historian chroniclers agreed that Thanksgiving 2020 will be very different due to the Covid-19 pandemic.
When Charles Dickens wrote A Tale of Two Cities, the historical novelist began with "it was the best of times, it was the worst of times." Back in 1859, he could never have imagined today's canceled culture pandemic led to mostly just the worst of times.
Even Thanksgiving, falling on the fourth Thursday in November has been canceled.
---
A QUICK READ:
Anyone searching for "when is Thanksgiving 2020?" will understand why, according to one hundred family historians, traditional family holidays will not occur this year.
According to historian chroniclers across the nation, Thanksgiving will be different due to the pandemic. In reply to a July 10-30th poll conducted by ScanMyPhotos.com, they explained this holiday season would be very different.
Rules will be bent, and this Thanksgiving will become the year of virtual, long-distance gatherings as families stay safe while social distancing.
Missing this year will be who carves the Thanksgiving turkey and who bakes the pies?
7 Ways to Surround Yourself with Cherished Moments to Celebrate Thanksgiving From Afar:
Visit Virtually, Online: Send invitations to your friends and the entire family to gather at a specific time during Thanksgiving for a virtual video call celebration while everyone is safe at home. "Zoom" live-action during your turkey dinner. Share stories. Watch and listen to the collective conversations to celebrate with your siblings, parents, distant relatives, and friends. Technology will unite and connect without ever leaving home. Make sure everyone understands how and when to log in.


Share Decades-Past Snapshots: Gather and digitize your old-school photos snapshots to reminisce and narrate the stories behind past Thanksgiving dinners and share the stories behind the memories when you cannot be together in person.


Select a Game For Everyone To Play: Jackbox is a gaming service that allows you to Facetime with your friends while playing virtual games.


Virtual Memory Wheel: Connects and gets everyone to engage. Become part of the story, while socially distancing. Have everyone select ten of their all-time most memorable pictures from past Thanksgivings and family gatherings. Share all the pictures online, and narrates the story behind the photos.


Smile, It is Family Photo Time: Take a family photo, complete with all virtual guests. Use a collage photo app to assemble each picture into a family keepsake and order photo gifts for everyone.


Guess Who? Cards: Have everyone submit two anonymous memes or message cards describing something excellent and unusual that happened to them in 2020. Add a third card with an aspiration for something they had hoped to do in 2020 but were unable to do. And one more identifying the best book, favorite TV show, movie, song, or event they enjoyed during the past 12 months. Then have everyone guess who wrote each Guess Who?


Prepare Before. Send a Gift and Traditional Dessert: Before Thanksgiving, send matching bouquets and a favorite family dessert to all your guests to enjoy together during your interactive Zoom, party.



Major retailers already announced they would close on Thanksgiving. Many others are doing without the traditional day after "Black Friday" sales as the coronavirus pandemic continues. Parades are not the only canceled tradition. Large Thanksgiving dinners are out too.
For those seeking an opt-out to escape family drama, the excuse why you cannot visit in person during Thanksgiving has already been made. No explanation is needed. Multigenerational families, separated by distance and time apart, can instead all gather together online.
Because traditional Thanksgiving parties are canceled, there are ways to gather online for holiday reunions virtually. Thanksgiving is a wonderful time filled with family and joy. Often it is the only time during the year when the entire family gathers together.
ScanMyPhotos.com is connected with families across the nation as their digital archivist service. The regular engagements with people who had their decades-past pictures scanned are the best group to ask what plans they have for the holidays.
---
BONUS: Sign up here for instant discounts and news updates from ScanMyPhotos.com
---