With Thousands of Tech Innovations, Which Made This Year's ScanMyPhotos "Best of CES" list?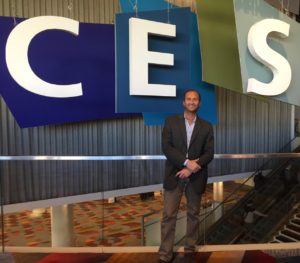 Each year we explore the cavernous CES exhibits at the LVCC and throughout Las Vegas for the very best.
The most innovative devices and gadgets that you did not even know about, but soon cannot live without.
---
Is the future. Imagine controlling a video game with your mind. A robot. The AI-powered prosthetic hand works with an amputee's brain waves and muscle signals to sense and execute the movement they want to make. From their website: "Advanced students will enjoy more difficult tasks, such as programming a flex-sensor glove to read the real-time position of their fingers, allowing them to control the movement of the hand. Additionally, students can use their brainwaves to control the hand with our brainwave detecting, Focus1 headband. Your students will learn state standard aligned curriculum and explore real-world applications of STEM principles."
This smart frame by Lenovo is a new 21.5-inch display that's designed to mount on your wall and display your photos. The Lenovo Smart Frame will begin shipping in August 2020 with a price tag of $399, and it'll be available in a range of frame materials and colors.
They are neighbors and also headquartered in Irvine, CA launched at CES the most advanced sound bar lineup to date. Building on the company's leading performance, ease-of-use, and value, VIZIO's 2020 models include the all-new VIZIO Elevate Sound Bar, along with new M-Series™ and V-Series™ sound bar lines pairing higher audio performance at every price point with a simple user interface and a minimalist yet soft and stylish industrial aesthetic.
Is the ultimate adaptive action cam. Three ways to shoot, just one camera. 360 degrees + 4K wide-angle + 5.3K 1-inch sensor + more.All pixels are not created equal. The Dual-Lens 360 Mod raises the bar with Super 5.7K resolution, leveraging H.265 encoding, advanced image processing, and an AI-powered finishing algorithm to preserve detail and make your footage pop.
Is your dog's personal doorman. The first smart door opener for the home, it turns patio, porch and garden sliding doors into smart dog doors — without any sawing or drilling. It provides a new level of freedom for people and their pets. It lets people safely and securely open and close their sliding door from anywhere, allowing access by dogs or trusted people. It can be controlled via a free mobile app for iPhone or Android which alerts users when its motion detectors sense activity. It also can be operated via integrations with other smart devices, such as internet cameras, sensors or digital assistants.
Handheld medical diagnostic device. It contains a powerful camera system, pulse oximeter, IR thermometer, stethoscope, and ECG all in a single 4-ounce enclosure. In addition to the real-time remote exams, it can be used by home health care, EMS, hospice and palliative care workers, as well as assisted living home monitoring environments. The MedWand™ fulfills the potential of telemedicine. Created by physicians and medical device engineers, MedWand houses multiple diagnostic tools in a single, easy-to-use handheld device. With a MedWand on the patient's side, clinicians can conduct remote office visits, and through the real-time collection of multiple vital sign readings and key patient assessments, detect and follow numerous medical conditions from across town, or around the world.
Olive Smart Ear: An affordable wearable that removes the stigma from impaired hearing. It is a single-ear hearing amplifier that improves the sound of everyday life and is customized to your own hearing. When paired to a smartphone with Bluetooth, each earbud can also amplify phone calls. Using patented hearing amplification technology for a clear and balanced sound, pre-set modes instantly adjust to various listening environments.
Follow along as we post more amazing tech innovations from CES 2020.
---