Can a small business lead the nation towards protecting our democracy from Russian meddling in our elections? Yes!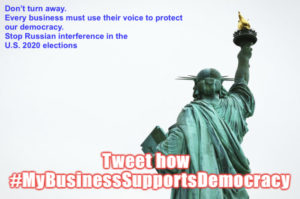 What is your company doing to effectively mobilize and protect our democracy from Russian interference in the U.S. elections?
Why does this matter? Because we cannot rely on Washington, as Senate Republicans Just blocked the advancement of bills aimed at strengthening election security.
There is no missile defense against interference in our elections, but there is Twitter and social media. An unprecedented "Moon mission" or "Marshall-like Plan" united voice and high-level fight can protect our democracy from wreaking havoc on our democracy.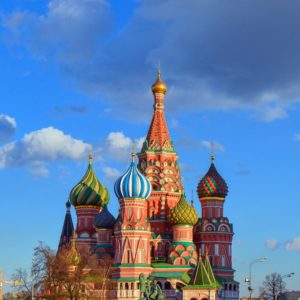 The time is now.
Protecting our democracy must include the leadership at every size business to use our collective voices and social media outreach to weaponize against Russia's plan to disrupt our democracy in the 2020 U.S. elections.
Across the nation, if millions launch a similar advocacy campaign like #MyBusinessSupportsDemocracy it will spark attention to the incontrovertible evidence that the Kremlin mounted a large-scale, concerted attack on American democracy.
Acton must begin at the White House by taking this matter seriously. Beyond solidarity between the main political parties, every business must use their voice and advocacy to spark awareness, spotlight this national emergency and create solutions.
Just as Russian activity uses social media and other digital avenues for spreading disinformation, we must collectively wage a war of facts to spotlight the breaches, mobilize and dismantle their attacks.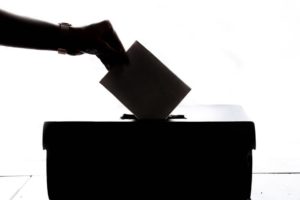 Robert Mueller: "Over the course of my career, I've seen a number of challenges to our democracy," he said. "The Russian government's effort to interfere in our election is among the most serious. As I said on May 29, this deserves the attention of every American. "They're doing it as we sit here, and they expect to do it in the next campaign."
H.R. 2722 – Securing America's Federal Elections Act: Securing America's Federal Elections, or SAFE Act, would provide $600 million for states to shore up federal election security. This would include upgrading from electronic-only voting machines to systems that provide paper backup ballots, which can be counted or audited if election results are in dispute.
"This is a threat we need to take extremely seriously and to tackle and respond to with fierce determination and focus," said F.B.I. director, Christopher A. Wray.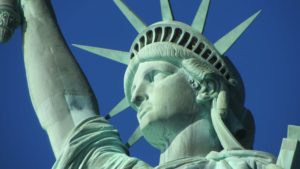 The Brennan Center for Justice at NYU School of Law: "This foreign interference in the presidential election exposed cracks in the security of America's electoral system, the most fundamental part of our democracy. News reports revealed that hackers working on behalf of the Russian government targeted state and local voter registration databases and managed to access elections systems in as many as 39 states. The attack shows that our current election systems are susceptible to foreign interference, and will only become more vulnerable as hacking methods are refined."
To raise awareness and provoke discussion, these are vital measures every American and business must undertake to protect and guarantee our elections are resilient from any breach:
Protecting our election infrastructure includes voter registration systems
Implement backup paper copies of every vote
Improve and modernize voting machines
Have tally servers and improved election night reporting
Secure every election system and its infrastructure from Russian influence and hacking
---
Share your story. What is your company doing to use your voice to protect our democracy and the U.S. elections?
Grateful,
Mitch Goldstone
CEO
ScanMyPhotos.com
---
A sampling of prior advocacy products
Victor in a war over credit card 'swipe fees' — LA Times
With No Women Keynote Speakers, Does CES Have a Diversity Problem? — Adweek
How Small Firms Can Defuse a Political Threat and Blunt a Boycott — NY Times
Why The New York Times' "1619 Project" on U.S. Slavery is a Must Read History Lesson — Via NY Times Feature Story #1619Project
Donald Trump was my hero, but he won't have my vote — The Hill
What The Tech And Coal Industries Can Learn From Kodak — TWICE
ScanMyPhotos Archived News Profiles