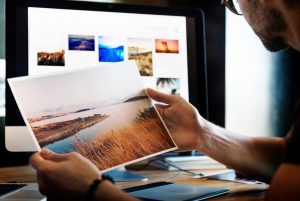 Updated: 10/1/2018***
Once your photos are scanned, digitized, and preserved, it's time to use those digital files to create unique photo gifts for you and your loved ones.
This truly is the best and most creative part of any photo scanning project.
So to help you get those creative juices flowing, we pulled together a compilation of unique photo gifts we've found over the years.
We'll regularly update this list with new gift ideas on so be sure to keep checking back!
Fun and games
Make precious time spent with loved ones even more memorable with these personalized games and toys.
AGiftPersonalized – Personalized Picture Frames
Don't let your favorite memories be forgotten. Remember all of the special moments you share with friends, family and loved ones by displaying your most cherished photos in beautiful, custom picture frames. With Personalized Picture Frames, there's no better way to honor and beautify a treasured photo than placing it in a personalized picture frame. Terrific selection of frames in many different categories for every occasion and loved one. You can create custom picture frames that pay tribute to your memories of the dearly departed.
Board games
Use your digital photos on these customizable versions of Monopoly and Scrabble from Target.



Puzzles
Portrait Puzzles offers lots of fun options when it comes to transforming your image into a high-quality custom photo jigsaw puzzles



Just desserts

Chocolates
Chocotelegram combines two of our favorite things—chocolate and photos! This service allows you to create your very own Chocoimage™. Printed on delicious Belgium chocolate this is a great idea to give as gifts to loved ones as it's thoughtful and sweet.



Cakes
DecoPac provides customers with edible prints of any image of their choosing. These prints can then be added to cakes to make for a truly special occasion.



Marshmallows
Boomf allows you to print images on the face of a square marshmallow for an endlessly charming and one-of-kind gift.


Home décor
Blankets
PersonalThrows has a blanket available for every occasion—from graduation throw blankets to family reunion tapestries.



Candles

Personalized Yankee Candle – add your photo to your favorite scent!
Votives – You could make a whole collection of memories with these adorable personalized votives.


Lamp shades
Bags of Love can shed some light on your precious memories.


Wall hangings
Skip the frame and try one of these cool wall hangings instead:



Personalized Photo Garden Flag – Add some character to your garden with personalized photo flags.


Christmas ornaments – These beautiful glass ornaments will add some sentimentality to your holidays.


Clothing and accessories

If you haven't scanned your photos yet—don't wait! Send us your pictures today so we can transform them into digital files to be used on your next unique photo gift idea.