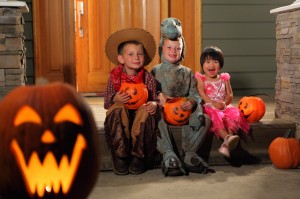 Most kids absolutely love Halloween and plenty of adults get in on the action too. It seems like each year, the Halloween fun gets bigger and better. Whether you live in a neighborhood with a fantastic cul-de-sac Halloween party scene or you're taking the kids out for some trick-or-treat fun, getting great photos is a must.
However, the evening lighting presents a challenge for getting great pictures of your favorite ghouls and goblins. Check out these tips for perfecting your Halloween pictures.
Get an Early Start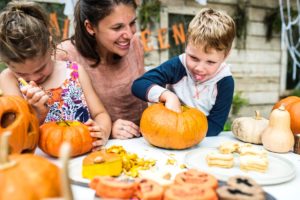 Even though most of the trick-or-treating action is after the early fall sunset, make sure you head outside to catch some great shots before the sun starts setting. This extra time also gives you the opportunity to head to an area outside with a great fall scene or a backdrop related to the costume theme. The nice lighting of the early evening will allow you to capture all the sweet or gory details of your little one's costumes. If you happen to live on one of those great blocks that go all out for Halloween, grab all of the neighborhood kids for a great group shot. It will be fun to look back and remember those experiences with old childhood friends in years to come. Don't forget to get down on the child's level for the best angle.


Set the Scene
If you really want to do something cool that your child will really love, take some time during Halloween to take some really memorable photos. If your child is obsessed with dinosaurs and dressing as one for Halloween, take them to a park with some cool rock formations to take some prehistoric fun. If you have a horse loving child who will be galloping their way through trick-or-treating, take them to a farm and get some great shots on hay, in a barn, along fences, and with some real horses. Be creative. The sky is the limit. Those photos will also look fantastic framed in their bedroom.


Lighting Challenges
After you were able to capture some great posed shots with your children with better lighting, the darker evening hours have arrived. But, you still want to be able to document them enjoying the fun of trick-or-treating. Since most of us are solely using our smartphones for taking pictures these days, check out your phone settings a few evenings before Halloween and test them. It's likely that you have some preset capabilities to improve your low-light photo dilemma. If not, increase your ISO to a higher setting to help compensate for the lack of light. Another fun idea is to get creative with the light from candles, jack-o-lanterns or glow sticks.