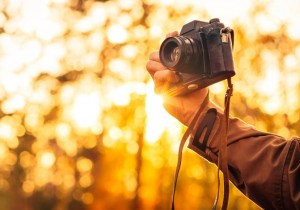 Fall Is A Perfect Time To Create Autumn Photo Memories
Whether you live in a region with amazing fall foliage or you will be taking a day trip to a pumpkin farm, no one can deny that fall brings excellent opportunities for creating photo memories with the family.
Adults and children alike will enjoy this opportunity to get out into nature to enjoy the foliage, fall activities, and food. Let's check out three can't miss fall photo ops for this fall Y'all.
Pumpkin Farm
One of the quintessential fall experiences is heading to a pumpkin farm and picking your pumpkins right off the vine. Dressing up the family in coordinating fall outfits and pumpkin spice lattes are optional. Riding out to the fields in on a hayride, eating kettle corn and drinking cider are all part of the fun.
Remember to capture the scenery, the ride out to the fields and that perfect pumpkin when you find it. Those fields are usually pretty packed so shooting close-ups work well for eliminating a lot of background clutter. Some interesting moments such as your child's first time watching kettle corn being made or tasting an apple cider donut are also great memories. Even if you don't have easy access to a pumpkin farm, most areas have a pumpkin patch where you can get a taste of fall on a smaller scale.
Apple Picking
Spending the day at an apple orchard picking apples is an excellent way to get into the fall season and capture some great family photos. Try to do a bit of research in advance about the orchard you will go to and consider the height of your children to plan out some shots.
If all of the branches are very high and ladders must be used, that may not be the best location choice for young children. If possible, choose an orchard with lower branches so the children can have fun picking also.
Fall Leaves
If you're located in a region of the country where you have beautiful fall leaves close by, use the beautiful weather and scenery to create an amazing natural backdrop for family photos.
Whether you are using a professional photographer or simply taking some photos with your phone, the beautiful leaves are a can't miss photo op for fall. Family hikes, playing football or raking and playing in the leaves are some excellent opportunities for creating beautiful fall photos of the family.
No matter which type of fall photos work for your region and family, there are so many wonderful ways to enjoy the fall. This is a great way to unplug and spend some quality family time in nature together. Remember to capture the big things as well as the little moments that your family will want to remember for years to come.
To learn more about ways to preserve your photo memories for a lifetime, visit https://www.scanmyphotos.com/.
---