$25 for $20 ScanMyPhotos.com eGift Certificates ordered online in seconds. Holiday deal. Expires Dec 31, 2014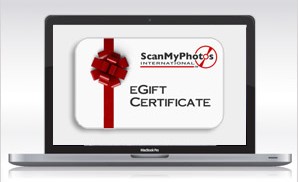 Happy holidays! Here is the most personalized gift idea for everyone on your list from ScanMyPhotos.com to have generations of nostalgic photo snapshots digitized.
The eGift Certificates are easy to order, pay just $20 for each $25 denomination ordered, send to your entire gift list to redeemed towards any online products at ScanMyPhotos.com. We digitized one-quarter billion photo memories.
MUST USE THIS PROMO CODE AT CHECKOUT: "HolidayGift" Are your family members and friends impossible to shop for? Surprise them with the unique gift of happy memories by sending them an Egift certificate for photos or 35mm slide preservation. No wrapping and it's instant. Everyone on your holiday gift list will soon be walking down memory lane while knowing they have preserved special memories for decades to come. Once your purchase is complete, the recipient receives an email from you with the Egift certificate code, instructions on how to use it, and your personal gift message. ScanMyPhotos.com is here to help throughout the simple process with professional customer concierge specialists. Note that Egift certificates are not redeemable for cash and are valid only for online orders. Sales tax may apply.
Since 1990, we have preserved one-quarter billion family memories – give this unique 2014 holiday gift and help others preserve theirs! No limit, cannot be applied to other discounts. Buy for everyone on your list. Offer expires 24-hours after this email was transmitted. ONLY ONE eGIFT CERTIFICATE CAN BE REDEEMED PER ORDER/TRANSACTION. Certain restrictions apply. Help share the love and please share this 24-hour ScanMyPhotos.com $25 for $20 eGift certificate with all your social media fans, or use it as an excuse to make a phone call to share with others. Order from and share this link: http://www.scanmyphotos.com/photo-scanning-gift-card.html
Remember, please use this promo code to validate: "HolidayGift"