Holiday Gift Guide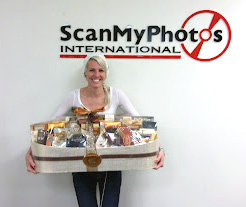 Throughout the year, we poll thousands of our customers – photo devotees who had their entire decades-worth of analog photo memories digitized to marshal together their favorite sites, products and services to help organize and better use their brand-new scanned pictures.
This year's list of leading holiday gift recommendations has added punch as it includes several new categories, encompassing genealogy, professional organizing, family DIY projects, and tech products for every photo buff. Enjoy these sensational holiday gift giving tips. But, we want to add more and hear from you. What did we miss? Tweet your personal best gift ideas to @ScanMyPhotos
Holiday Gift Guide For Professional Organizers
Real Simple Magazine – The leading magazine for organizing tips.
Unclutter Your Life in One Week (book) – The popular organization expert Erin Rooney Doland will show you how to clear the clutter, simplify your surroundings, and create the stress-free life you deserve—in just one week.
Online Egift Certificate from ScanMyPhotos.com – The most emotional gift to organize and digitize generations of nostalgic photos.
Mixbook – Easy and fun way to make completely customizable photo books, cards, and calendars online.
Cocoon Grid-It CPG8BK 10.5 x 7.5-Inch Organizer – a rubberized woven elastic object retention system for gadget organization.
Organizing from the Inside Out – Getting organized is a skill that anyone can learn, and there's no better teacher than America's organizing queen, Julie Morgenstern.
National Association of Professional Organizers – Join NAPO, the premier association for professionals in the organizing and productivity industry.
Simpler Pro App – Smart Contacts Manager for iCloud, Gmail, Yahoo, Outlook & Address book
Picture Keeper – USB Photo Flash Drive
ScanMyPhotos.com Professional Photo Scanning – Digitize your clients photos, 35mm Slides, Negatives
50 Tips to Get You Organized (book) – Authored by Bonnie Joy Dewkett CPO®, Paris Love

---
Holiday Gift Guide For Tech Savvy Shoppers
Jambox – Wireless speakers
Carson Optical – Binocular adapter for iPhone 5
Pathfinder LED Cap – Hat with an LED light to see in the dark
DropBox – Put your stuff in Dropbox and get to it from your computers, phones, or tablets. Edit docs, automatically add photos, and show off videos from anywhere.
Carson HookUpz™ for Samsung Galaxy S® 4 – Binocular adapter for your phone
Digital Foci D-Light Box: 8″ Portable Digital Photo Album
Nikon Coolpix S9700 – 16-megapixel compact Digital Camera
GoPro Hero4 – The most fun you'll have with your camera
Parrot AR.Drone 2.0 – Live video streaming from a flying drone
Shutterfly – At Shutterfly, millions of people store, enjoy and share billions of photos online.
---
Holiday Gift Ideas For Genealogy Experts
Family Tree Magazine – The leading genealogy magazine with updated research tips, resources and news.
Your Family Reunion How to Plan It, Organize It, and Enjoy It (book) – By George G Morgan, this book is a guide for organizing a successful and exciting family reunion, from a casual backyard barbecue to a week-long deluxe cruise.
Family Tree Memory Keeper Your Workbook for Family History, Stories and Genealogy (book) – By Allison Dolan, From the editors of Family Tree Magazine, this workbook makes it easy to record and organize your family history.
Anestry.com – What will you discover in your family tree? Click here to help your loved ones discover their stories in the world's largest online family history resource, home to billions of historical records, millions of family trees and lots of helpful, timesaving tools with this Ancestry.com Gift Membership.