The newly enhanced photo digitization website now delivers innovative services and products in a contemporary and pleasurable Ecommerce shopping experience.
ScanMyPhotos.com announced today the launch of its most ambitious website redesign since the company was founded in 1990. The pioneer of super fast and affordable digitization of photos, slides, film and negatives also recently topped 100 million scans. Although the digitization of 100 million pictures may seem like a tremendous achievement, but with literally trillions of analog pictures – spanning decades and still awaiting scanning for today's all-digital world – there is much work ahead in the digitization of analog pictures.

"Following the innovative growth at ScanMyPhotos.com, as we expanded from a 1,200 square-foot retail photo center to our 6,000 square-foot corporate headquarters in Irvine, California, we needed to accelerate and create a simpler way to interact and engage our customers," said Mitch Goldstone, president and CEO of ScanMyPhotos.com

According to ScanMyPhotos.com, their photo scanning experts strive to make every customer experience extraordinary. The newly enhanced website now delivers innovative services and products in a contemporary and pleasurable Ecommerce shopping experience.

Key innovations for the new virtual ScanMyPhotos.com storefront website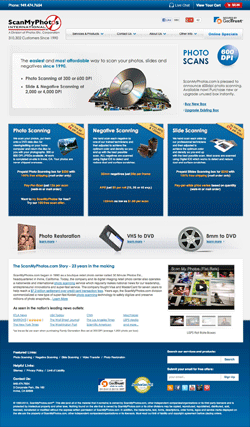 Innovative and organized homepage showcasing popular scanning and digitization services

Easy-to-use navigation menu

Simple and informative shopping experience with an easy checkout process and a mobile payment system for customers using mobile phones and tablets

New online appointment scheduler for walk-in business which allows customers to make, reschedule or cancel appointments, all online. Customers will also receive reminder emails the day of their appointment

Order forms have been replaced with a more secured process for customer credit card information. The order process is simplified and completed online to insure added data security and ease of use.

Enhanced new customer support system allows customers to log in to view active inquiry tickets, making it much easier to communicate with the company

Built in blog to easily communicate with customers
Fans of ScanMyPhotos.com are now able to take a tour to view all the newest features about all scanning and digitization products and services much faster than before. Instant sign up features are available so people interested in preserving and sharing their precious photo memories will receive updated newsletters, important news about digital photography and deeply discounted special offers from ScanMyPhotos.com.

"We are actively using all the leading social media tools, including Twitter , Goggle+, Pinterest , Facebook and blogging to connect and engage customers. As millions of people share photo and slide memories using social networking, email and cloud uploading, there is no better way to easily share analog images than to have all these precious memories digitized by the experts at ScanMyPhotos.com," said Goldstone.