ScanMyPhotos Referral Program. It Is Free To Apply And Request To Become An Ambassador.
ScanMyPhotos is proud to offer our Ambassador partnership program to you. You get paid for orders that are a result of your online recommendations. Start earning money today and join us! Get paid to refer ScanMyPhotos affiliate revenue-sharing program.
📷😂 ScanMyPhotos.com has won over so many to digitize their lifetime of photos! Now, the real question is: how do we turn you into an Ambassador and get everyone you know to be just as savvy in digitally preserving their precious memories?
At ScanMyPhotos, we just unveiled a rewarding new affiliate marketing program to show our appreciation for your loyalty. With this affiliate program, we offer you the opportunity to gain commissions through your online referrals. The process to join is effortless, with quick review and approval in as little as a day.
---
---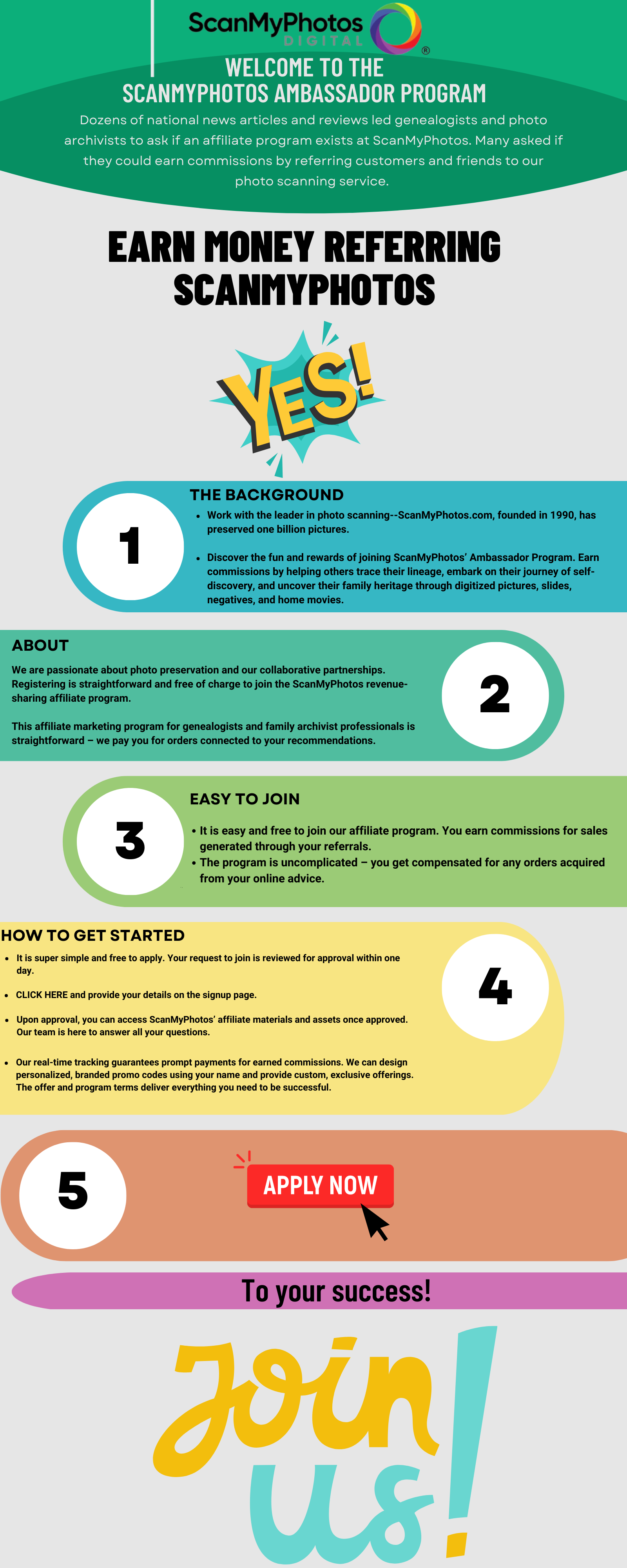 ---
Benefits of joining the ScanMyPhotos affiliate revenue-sharing program:
As a ScanMyPhotos affiliate, you can spread the word about a company's products or services in your own way and whenever you desire. Moreover, by utilizing your referral link, you can acquire passive income based on the sales generated from your links. Not only that, but you won't have to invest anything, as the company will take care of the scanning services, customer service, and shipping.
Moreover, you can conveniently reach out to your network of friends, followers, and subscribers. You will not only enhance your credibility, but you will also display your knowledge of photo preservation by linking up with a respectable brand.
Upon approval, you will be given access to resources on the ScanMyPhotos website to promote and share.
The affiliate Ambassador program is easy to join. We provide you with everything you need to begin, such as a referral link, tracking code, and rules to promote their products.
This partnership benefits you as you promote a trusted brand, increasing your influence as a reliable source.
---
---
Share your ScanMyPhotos reviews on your blog, social media channels, and any other relevant platforms by linking to ScanMyPhotos.com.
Every sale resulting from your posts will result in a commission, with real-time tracking for quick payment. Furthermore, you can request custom promo codes and exclusive deals that can be attributed to you.
---
SIGN UP FOR THE SCANMYPHOTOS REVENUE-SHARING AFFILIATE PROGRAM
---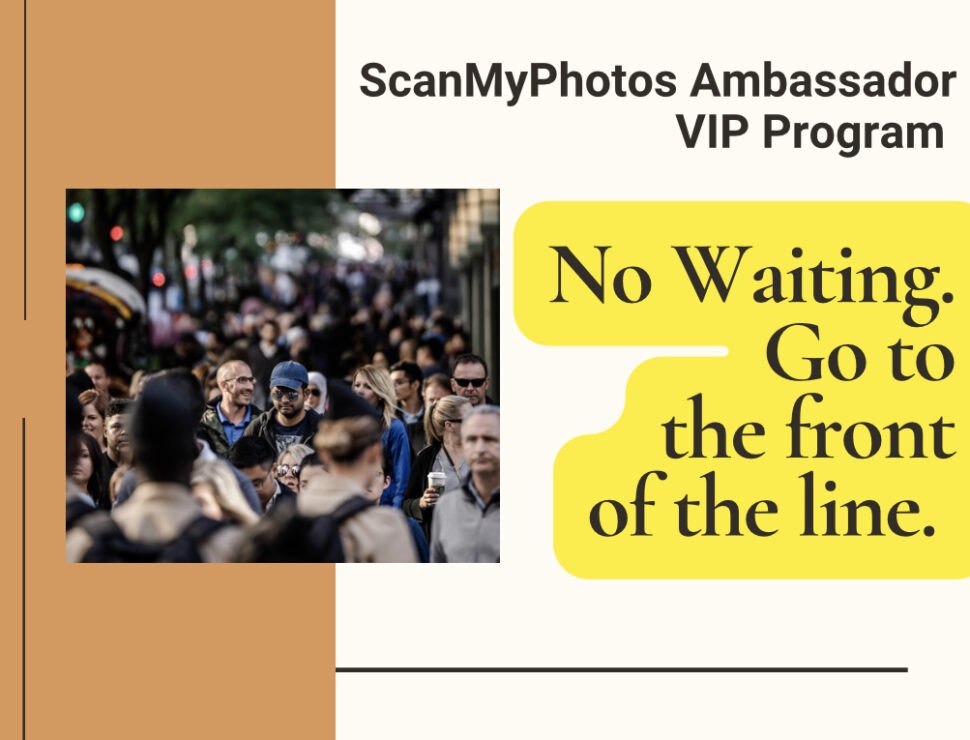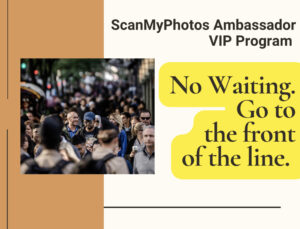 Join us and reap the rewards of the ScanMyPhotos referral program today!
Nobody knows our story better than you. We are passionate about photo preservation and our partnerships. This new affiliate marketing program is straightforward – we pay you for orders connected to your recommendations.
This is your opportunity to become a partner with us. Share in the revenues linked through your recommendations.
To request to join our affiliate team, click here.
If you'd like to know more, please don't hesitate to contact us.
ScanMyPhotos is devoted to fostering a meaningful relationship with our partners. Our affiliate program is uncomplicated; we will pay you for every order which has come about through your recommendation. Commissions are granted through an automated system, so payments are ensured. We invite you to join our exceptional team of affiliates and discover a whole new realm of potential.