Celebrate your pictures with a sentimental gift to unclutter your lifetime of pictures. Save 22% off sitewide with this promo code: ProScanning*
Hey, it's us again. You know we're the best photo digitizing company in the world. We even pioneered bulk photo scanning, started the whole online digitizing business category, and were made famous way back in 2008 — after this New York Times feature article: "Your Photos, Off the Shelf at Last – The New York Times." What a bold claim right? We can't help it. It's true. Just look at our customer raves and the exhaustively-large list of media profiles. We've preserved one billion pictures, saving irreplaceable memories after floods and hurricanes. Yet, each year billions of pictures are destroyed.
We designed this deal to help you plan ahead and help you fall in love with these great savings. Save 22% sitewide at ScanMyPhotos on new orders to make an emotional gift or for yourself that will never be forgotten. *Excluding eGift Certificates. Bonus: Save $30 more on orders over $450.
Must enter this promo code at checkout to instantly validate: ProScanning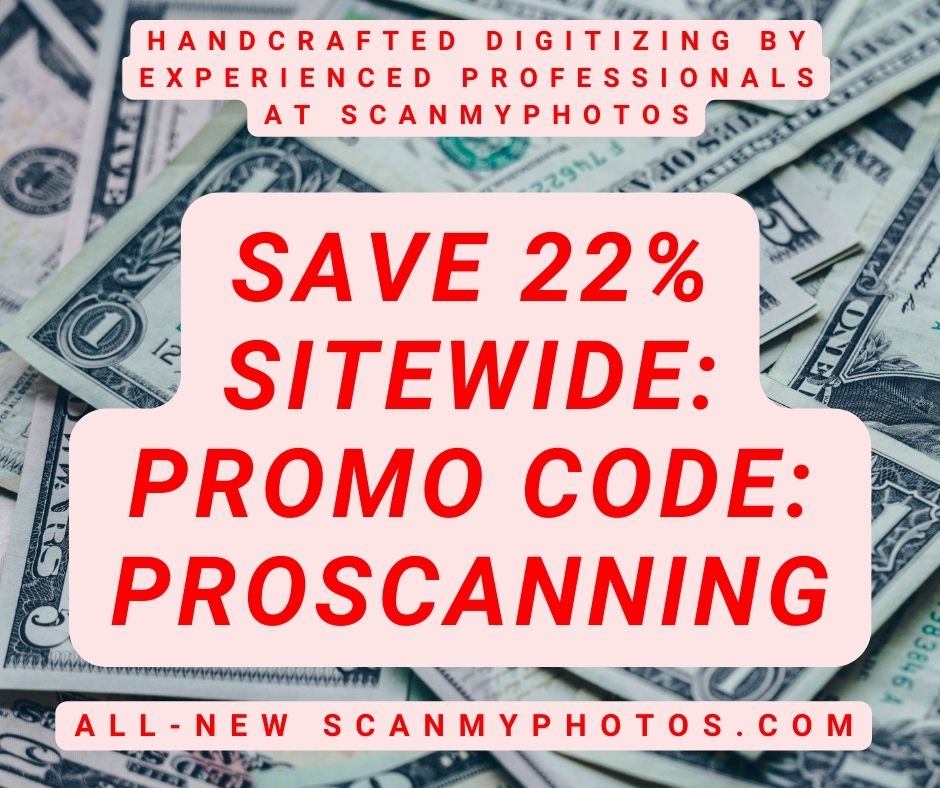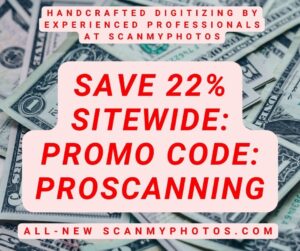 Do you have photograph snapshots, slides, film negatives, home movie films, and VHS tapes from when you met that are gathering dust in your attic or infrequently seen?
As your photo preservation partner, we are here to help put those pictures to good use and create an emotional gift your loved ones will cherish forever.
With the help of the all-new ScanMyPhotos website and simplified online ordering, your personalized gift is a click away. Add express same-day, instant uploading, and more new features to enhance your order. Express VIP next-up service is only available when you order the highest level resolution scans. Example. Must order 600 dpi resolution (photos), and 4,000 dpi resolution (35mm slides and film negatives) to have your order moved to the front for expedited service.
Digitizing your pictures, slides, home movie film, negatives, and VHS tapes at ScanMyPhotos to create a wonderful gift to celebrate the memories of the special people in your life.
INSTANT ORDERING FROM OUR FULL MENU OF SERVICES
Watch how quickly your pictures are professionally digitized [1,000 photos preserved in under five minutes at ScanMyPhotos].
Never miss a super sale when you sign up for the free ScanMyPhotos Journal