ScanMyPhotos.com Explains why the USPS helps grow its business
What is the underlying foundation for your company's success? Often, this is the first question asked by fellow entrepreneur's at conferences and trade shows attended by ScanMyPhotos.com® management. The answer is always the same and it has been since our Ecommerce photo digitization service was founded: TRUST.
A large part of building trust with customers is that they are comfortable sending their generations of nostalgic photo memories for scanning via the U.S. Postal Service®.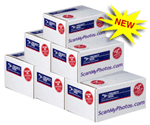 Behind our accomplishments is the support of an organization founded in the 1700's, when Benjamin Franklin was appointed its first Postmaster General in 1775. The U.S. Postal Service has grown, changed and reinvented itself over the decades. They are the reason for our success. Beyond products like Priority Mail® flat rate and regional boxes is the exceptional personal support. Everyone at the USPS is like family to us. Their marketing and support team regularly helps advise ScanMyPhotos.com to be more efficient and provide a better customer experience.
The video (above), produced by the USPS® provides a Wizard of Oz-like tour behind our curtains to see what a typical day is like at our Irvine, CA-based corporate headquarters.
Want verification how invaluable the USPS is and how it can help any size business prosper? ScanMyPhotos.com has digitized and delivered nearly one-quarter billion pictures; representing tens of thousands of individual orders to all 50 states, from the smallest towns to the biggest cities. We benefit because the USPS is always open, for online tracking of orders.
Some of the added benefits of Priority mail, according to the usps.com website are:
Priority Mail was reinvented in 2013 with a new look, improved tracking, free insurance, day-specific delivery and the kick-off of the "Priority: You" campaign.
Priority Mail Flat Rate boxes eliminate the need to weigh packages or calculate postage.
With Package Pickup, customers can go online to request Priority Mail packages be picked up at their homes or offices — for free.
In 2013, more than 107 million packages were picked up at homes and offices using free Package Pickup.
Shipping supplies are free. Priority Mail and Priority Mail Express boxes, envelopes and labels, international mailing products and customs forms are available at no charge. They can be ordered at usps.com or picked up at a local Post Office.