As a lesson for all merchants, don't get mad at Amazon; get even because Prime Day® can be a calamity for businesses. Read below for how to score free photo scanning from ScanMyPhotos.com.
---
---
No charge for standard fill-the-box photo scanning–Save $170 and more. Just pay for return delivery, digital media, upgrades, and extra services to enhance your photo digitization order.
---
---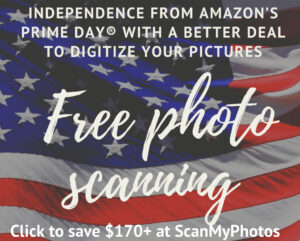 Many consumers shop for the deal, but is #PrimeDay a discount?
What are the hidden costs?
Everything you need to know to understand why this is JUST a giant marketing gimmick to score massive media attention–billions in free advertising for Amazon. Listen to Rick Wilson's (MIVA, CEO) Dragonproof podcast for more. Excerpts below:
A lot of fuss for what amounts to less than an average days Amazon revenues
#1 goal is to add Prime subscribers (marketing bait) and email addresses
Sell Amazon private labled stuff
FOMO ("fear of missing out") pressures retailers to engage and give up profit margins
Transfer future sales through the Amazon marketplace platform–away from retailer's doors
Consumers get trained to wait and ONLY shop during Prime Day
Choose products that go well with add-on, additional full price products
All about time pressure to buy a deal NOW
You are forced to pay $119 before you save a penny. If you are not an Amazon Prime member, good luck, you can't play their game. This is a pure definition of a "pay-for-play" scheme. You are charged an annual Amazon Prime fee of $119 before you even click to order anything.
---
---
Bloggers, the media, and influencers crow about Prime Day deals but fail to explain the caveat. The first rule. There is a $119 upfront signup fee. The other problem is how shopping during Prime Day is an assault on America's small businesses.
Businesses must engage and create their own eye-popping discounts that spur everyone to exclaim, "that's crazy!" We did with FREE PHOTO SCANNING.
To challenge Prime Day, we created this model for fighting back with this super deal
We designed FREE PHOTO SCANNING to challenge Prime Day and because we are content providers for family reunions and all photo-sharing apps. Your legacy of nostalgic photographs is the centerpiece for displaying your history during gatherings.
As we get back to post-pandemic normalcy, family reunions are returning. The Summer of 2021 promises to be the largest family reunion gathering ever. The challenge is how to share your archives of past family adventures, celebrations, and history from your photo albums?
Love Free Stuff? This is the perfect time to have your pictures digitally preserved, and scanning is free.
Think this is fast, as your pictures are professionally digitized? Even better is thousands of snapshots are now free*, and with free delivery.
[be]
This past year of grief and emotional heartbreak included a staggering number. Forty percent of all photo scanning orders at ScanMyPhotos.com were from grieving families preparing for online Zoom memorials. The encouraging news is now 70% of all digitization projects are from people readying for summertime reunions to show off their pictorial history.
---
INSTANT ORDERING (Enter "FreeScanning" promo code at checkout).
We used our creativity to draw attention to how businesses can fight back against Prime Day, the site-wide sale across all of Amazon's product categories.
HOW TO GET FREE PHOTO SCANNING:
Use this link to order free photo scanning.
At checkout, use this promo code: "FreeScanning" to instantly save $170.
The standard social media scanning includes free social media resolution scanning of about 1,800 pictures with two-way free delivery of up to five boxes to fill with snapshots.
To enhance your order, choose from our entire menu of add-on services.
You must enter "FreeScanning" promo code at checkout to activate.
If you only need standard 72dpi "social media" level photo scanning, your scanning cost is ZERO* when you enter the "FreeScanning" promo code at checkout.
We sure hope with this BIG DISCOUNT you'll also select from the basket of popular add-on services, and share this with everyone. For higher photo scanning resolutions (including professional 600 dpi) and other add-ons, just enter the promo code–you'll instantly save $170 — applied toward your purchase.
The full menu of photo scanning services, including professional 600dpi scanning, is listed below.
Same-day scanning, instant uploading, custom 8GB flash drives, and so much more are available on the order page.
*FINE PRINT: Free scanning expires on June 30, 2021. Limit five boxes per address. Applicable sales tax applies. It cannot be applied to prior orders, FGC, or any other discounts. Good only for prepaid fill-the-box photo scanning. No returns or cancellations. ORDER BY 5 PM (EDT) ON WEEKDAYS AND YOUR BOX(ES) IS MAILED THE SAME DAY.
Select From Our Menu Of Add-On Services. We recommend you also select from these featured services to enhance your archival experience.
UPGRADING to our very popular, industry-leading 600 DPI scanning offers an even more precise and finer-detailed scan;
Save your photos to custom 8GB thumb drives for just $15.95;
Extra DUPLICATE DVD data discs at a huge discount (order 8 or more and pay just $9.95 each);
Have us ROTATE all your pictures upright;
Order beautiful hard-cover bound PHOTO INDEX BOOKS with color thumbnails of all your photos;
MOST POPULAR: Order PHOTO SOAP to digitally upgrade and make your pictures sparkle and look like new;
HIGHLY RECOMMEND: Have your pictures scanned in order; otherwise, it is randomly archived. Scan in Order;
RUSH Express Same-Day Scanning;
Have your own concierge expert seamlessly oversee your order, from start to finish. Elite-Concierge.
BONUS: SIGN UP HERE FOR INSTANT DISCOUNTS AND NEWS UPDATES FROM SCANMYPHOTOS.COM
---
Martha Stewart Recommends ScanMyPhotos For Digitizing Pictures
Read more about ScanMyPhotos from all these media profiles and reviews