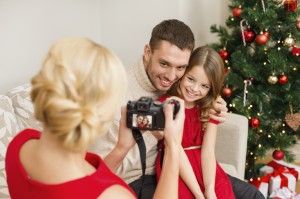 It's the most wonderful sale time of the year—Black Friday and Cyber Monday 2018 will be here before you know it!
Are you ready to take advantage of some fantastic camera and photography deals? If so, we've scoured the interwebs and uncovered holiday sales we know ScanMyPhotos' customers will love (including a big one from yours truly!).


We're pulling out all the stops with our most popular Black Friday and Cyber Monday sale!
When you buy two prepaid photo scanning boxes, you'll get the third FREE—including free shipping and the return of your digital media, pay just $19.95 extra for returning your photos. *You MUST order three boxes to instantly receive the third box free. If you only order two boxes, the discount will not be applied. Ready, Set. Order.
Subscribe to the ScanMyPhotos mailing list, keep an eye out for an email to hit your inbox with more details and crazy-good deals.
Sharpen your photography skills with Photography Concentrate's courses. Their Black Friday sales regularly offering between 40-60% off of photography tutorial classes.
Looking for software to help enhance the photos and videos you take? Look no further than Adobe's Creative Cloud Suite for popular photo and video enhancement software like Photoshop, Lightbox, Premiere Pro, After Effects, and more. Adobe's Early Black Friday specials are posted when you purchase the Creative Cloud subscription. Creative Cloud gives you the world's best apps and services for video, design, photography, and the web. It's easy to get started with built-in tutorials and templates. Whether you're a beginner or a pro, you have everything you need to go from dreaming to doing, wherever you're inspired.
If you're into genealogy, then My Heritage is the place to go to connect with distant relatives and see how deep your roots go. They regularly post savings on their Heritage's Premium Membership. My Heritage is the leading global destination for discovering, preserving and sharing family history. Our platform and DNA kits make it easy for anyone, anywhere to embark on a meaningful journey into their past and treasure their family stories for generations to come. Our powerful technology does the searching for you, revealing fascinating new details about your family history — effortlessly.
Photo Weavers
Turn a photo into a forever keepsake this holiday season with Photo Weavers. These guys can take your scanned photos and stitch them into a beautiful blanket, pillow, tote bag or wall hanging—making for a one-of-a-kind gift! Photo Weavers posts the inside scoop on a Black Friday/Cyber Monday deals to their email subscribers. Sign up and make sure your loved ones cozy up with some wonderful memories. They invented a process for turning photos into woven products This is an ideal way to do more with your pictures after they are digitized.
Amazon waits for no one—their Black Friday and Cyber Monday deals start early! They're also taking on some fierce pricing competition with Best Buy, Walmart, Target, and more. In terms of cameras, DSLRs, point-and-shoots, tripods, cases, and other equipment, here are some of the deals on Amazon that you can compare to all the other big box stores.
As you browse the deals above, keep in mind that everything in this post is subject to change at any time. Regardless, there are some incredible deals to be had out there this season—make sure to take full advantage! Please let us know when you see more photography super deals for Black Friday and Cyber Monday.