Photography: Family Reunion Tip
When extended families gather together, from grandparents to siblings and first cousins, the convergence of multi-generational ancestors is made extra memorable when everyone shares pictures. Not just those recent activities stored on mobile devices, but also generations of analog photo snapshots, 35mm slides, and negatives from yesteryear. This helps build a legacy of storytelling to unite families on a genealogical tour to recall ancestors and the whole family's history.
Photo Tip: Ask Guests to Share Decades-Past Scanned Pictures
FAMILY REUNION PHOTO TIP
1) SCAN. Start by asking each family member to gather all their photographs and have each one digitized. There are several easy ways to affordably digitize pictures, from the ScanMyPhotos.com pay-per-scan option, to its popular fill-the-box services to scan about 1,800 pictures, and the much larger Family Generations Collection, where more than 10,000 photos are digitized with free shipping and completed in days.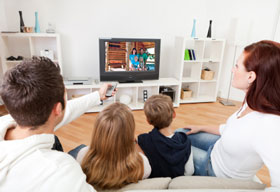 2) NARRATE AND RECORD. At the reunion, gather together in front of a large television and sync to the photo files. Set up a camcorder in the rear of the room to record the narratives, as each person shares the stories behind the picture. This is always emotional, and filled with laughter and even weeping chronicles of past events and remembrances from deceased relatives. Provide all the attendees with a copy of the recorded walk down the genealogical path to preserve your family's timeline.
For a wealth of photo digitizing tips, visit ScanMyPhotos.com